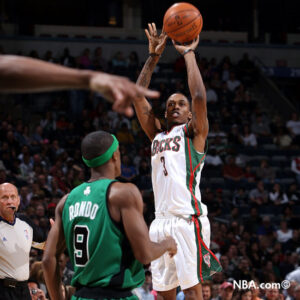 The  Milwaukee Bucks have been playing a lot of potential Playoff opponentes recently and their last game of the regular season will only confirm this trend. Their playing away at the Boston Garden against a really shaky Celtics team who have a tendency of losing against practically anyone in the NBA.
The series of medicure results for the Celtics is going on and on as they have lost in their own building against teams who are out of the  Playoff picture like Washington Wizards, Houstoun Rockets, Memphis Grizzlies and even the New Jersey Nets! Almost unbelievable. But that's just sums up the whole season for the C's. They have turned into a shaky team that can badly surprise their home fans and tonight it looks like more of the same is coming.
The Bucks have top player in their ranks like Brandon Jennings, Kurt Thomas, John Salmons, Carlos Delfino and why not even Jerry Stackhouse. Celtics on the other hand are going through this rough period becuase their aging stars have been seriously under-perfming as ot lately. KG is no longer the same player he used to be back when they won the title. He is not as explosive nor does he jump as high as he used to. Chris Paul has gotten seriously slow. The whole team looks slow both in ofense and defense.
Our Pick: The Bucks should manage to win against the Celtics at odds of 1.45 (betonwins.com).