The Friday night matches in the German Bundesliga have become an excellent source of top betting tips for us, and we are excited to bring you the best RBL v Stuttgart prediction. This game will be the home opener for Red Bull Leipzig (RBL) who are coming in with two new trophies to showcase for their fans. Stuttgart are feeling happy just for having saved their place in Germany's football elite division, but this year would present a similar challenge in terms of the fight for survival. As one would expect, the online bookies are tipping RBL to win this game as the odds for them are just 1.45. Find out what you can expect from this game in our RBL v Stuttgart prediction.
BetOnWins Is On A Roll 🎲
Before we dive into our Bundesliga betting tips for this Friday, August 25, let's just take a moment to examine our picks so far this week. On Tuesday, we made accurate betting picks on the Champions League qualifier between Rangers and PSV as we had Luuk de Joong To Score at Anytime ✅ and also Both Teams To Score And Over 2.5 Goals @ 2.20 ✅. On Thursday we had another winner with our Ludogorets v Ajax prediction on Both Teams To Score And Over 2.5 Goals @ 1.80 ✅.
Don't forget that we have prepared loads of winning tips for this weekend, not all of them are previewed on our website, but you can check out our Brighton v West Ham prediction for Saturday.
Register And Start Winning
Don't forget that we have prepared loads of winning tips for this weekend, not all of them are previewed on our website, but you can check out our Brighton v West Ham prediction for Saturday.
To get our top betting picks, register and become an official BetOnWins member!
Two In-Form Sides Collide
RBL finished last year by lifting the German cup in Berlin, and now they started this year winning the Super cup in an emphatic style trashing Bayern Munich 0:3 at the Alianz Arena. However, Red Bull lost on Matchday 1 of the Bundesliga as they suffered at 3:2 defeat at Bayer Leverkusen. Yet, one could make the case that RBL could have and probably should have earned at least a draw as Openda made a shocking miss in front of an empty goal in the 80th minute.
Meanwhile, Stuttgart finished last season in similarly dramatic fashion and sort of happy end for their standards as they won the playoff to stay in the Bundesliga. Stuttgart a super impressive start in the Bundesliga as they beat Bochum at home by 5:0. A lot of Bundesliga experts tipped this game as a potential six-pointer as both teams are seen as relegation candidates once again. Our prediction for this Bundesliga season is that Stuttgart won't be fighting for survival, but revival. I do think they will earn more points this season and will aim at the middle of the table, far from the relegation spots.
Red Bull Leipzig Looking To Get Their First Points
"We can finally play in front of a full house again for this first time since we won the DFB-Pokal and the Supercup. We feel at home when our fans are with us. We know that they're all behind us when we're out there on the pitch."

Marco Rose speaking to the media before the game against Stuttgart
RBL Team News
Three players will certainly miss this game for RBL. Amadou Haidara (muscle injury) and El Chadaille Bitshiabu (MCL tear) aren't available for selection yet. Péter Gulácsi is close to making a return, but still needs more time.
The good news for Red Bull's head coach Marco Rose is that Kevin Kampl took part in full training on Thursday and could feature tonight depending on how he is feeling after his session. Benjamin Sesko is also back in traning and his availability will be decided on Friday.
The Swabians Going From Survival To Revival
Let's examine the visitors in this RBL v Stuttgart prediction. The team showed strong performances during the pre-season matches. Notably, Stuttgart secured a 2-1 victory against Vitesse Arnhem and a 3-0 win against Sheffield United. However, their solitary defeat occurred against fellow Bundesliga contender Borussia Mönchengladbach, resulting in a somewhat disturbing 5-1 loss.
The Swabians have capitalized on their early-season opportunities. They easily triumphed with a 4-0 win against TSG Balingen in the first round of the DFB-Pokal. As previously mentioned, their Bundesliga debut saw them dominate with a 5-0 triumph over Bochum. Silas and Serhou Guirassy seem to be in peak form, each netting three goals in just two games.G
Guirassy to Score at Aytime @ 4.00 ✅
The primary source of scoring prowess lies within Serhou Guirassy. The Swabians' number 9 found the back of the net twelve times in 22 matches last season. He maintained this impressive form in the recent home victory against Bochum, recording a brace. With prior experience in the Champions League for Stade Rennais, the Guinean international possesses notable strength, agility, and skill with the ball. Additionally, his aerial abilities make him a considerable threat in that aspect of the game. In terms of our RBL v Stuttgart prediction and betting picks, you could consider making a bet on Guirassy to Score at Aytime @ 4.00.
Silas To Score At Anytime @ 5.00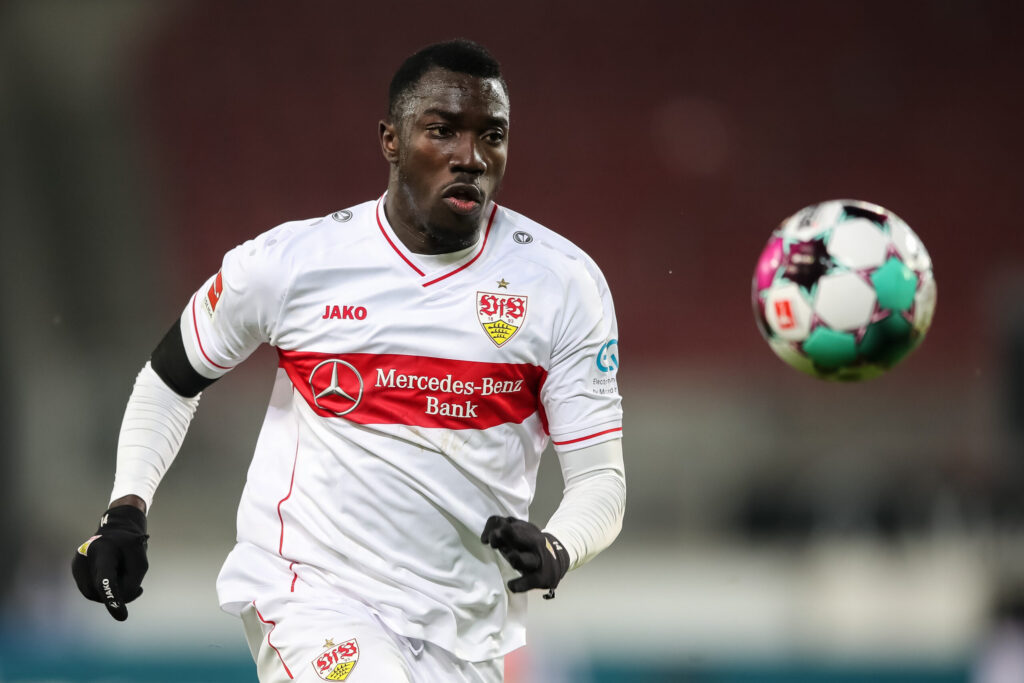 Here is another free betting tip for you part of our RBL v Stuttgart prediction. If you are feeling lucky, you can lay some money on Silas to score tonight as the odds are quite good. Silas Katompa Mvumpa, commonly referred to as Silas, notched a pair of goals in the opening match against Bochum. The 24-year-old forward primarily operates from the right flank and embodies sheer strength and prowess. Hailing from Congo, Silas is a formidable force both on and off the ball, showcasing his remarkable speed that makes him a potent weapon in counterattacks. Beyond his ability to create scoring opportunities, Silas is equally adept at finding the back of the net himself.
Stuttgart Team News
VfB's manager Sebastian Hoeneß will be missing four key first-team players for their first away match in the 2023/24 Bundesliga season. The journey to Saxony arrives prematurely for Josha Vagnoman, Nikolas Nartey, Deniz Undav (all sidelined due to injuries), and Laurin Ulrich (recovering from tonsillectomy). However, the recent addition to the team, Leonidas Stergiou, is expected to be part of the squad.
Another player that will be available for this game and should make his season debut is Hiroki Ito. The Japanese extended his contract with VfB until 2027 on Wednesday. "Hiroki is a central figure for both me and the whole club," said Hoeneß. "He came to us from the Japanese second division and has shown in the last two years what he's capable of. Hiroki is an extremely talented defender who can progress further with us. I'm very pleased that he's staying put," added the VfB boss.
RBL v Stuttgart Prediction
Register below to get our top betting pick for this game, as well as the other winners we have prepared for this weekend.
Over 2.5 Goals & Both Teams to Score @ 1.90 ✅
Final Score 4:1