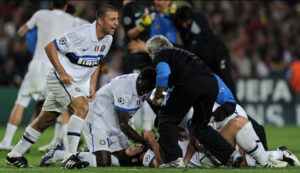 Inter achieved what most people considered as "Mission Impossible" as they managed to eliminate Barcelona from the Champions League. The tradition of never having a team to win the competition twice in a raw is set to continue for at least another year. Jose Mourinho was the mastermind behind Inter's miracles as BetOnWins predicted. Now we are in for an Inter – Bayern final at the Bernabeu on May 22nd.
It was one of the those historical nights in the Champions League, an absolutely David against Goliath type of scenario which Inter won by turning back the time to the years of their last European Cup triumphs 45 years ago achieved thanks to their "Catenaggo" style. Defense was the key to their success and the most interesting fact in terms of stats is that Barca had 555 completed passes against only 64 from Inter! A total of 9 shots on goal for Barca against only 1 from Inter!
Now, of course a lot of people will go out and say Inter are playing destructive, anti-football but at the end that doesn't matter. What matters in football is the results. 20 years from now, no one will think about this defensive tactic but about the fact they eliminated the mighty Catalans which everyone considering to be unbeatable. And of course, a lot of all this display was down to the scandalous red card given to Motta early in the 1st Half.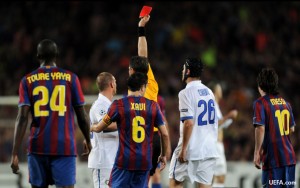 From that point on, it was obvious that Inter had to retreat further back and try to conserve their 3-1 lead from the 1st game. Still, it was a courageous performance by the entire Inter team and a genius strategy from Jose Mourinho who manged to completely neutralize Messi and Ibrahimovic.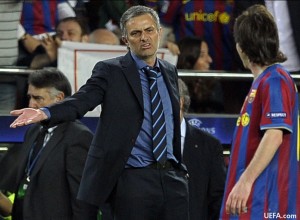 What matters at the end is the final result and Inter won the tie 3-2 so now they will be in their well deserved CL Final for the first time in 38 years. Back then, the tournament was called European Cup and Inter lost against Ajax in Rotterdam.
Quite rightfully, Jose was ecstatic after the final whistle as he ran towards the pitch screaming and holding his hands high. He went all the way in front of the Barca fans and started screaming at them in joy. Here is what he had to say to Sky Italia after the game:"This is the most beautiful moment of my career. The best of all. Inter had not played a Champions League final for 38 years – this is something that we were all waiting for. This isn't a team of kidswho can wait 15 years to play a final. I am really happy – playing with 10 men for more than an hour in this stadium against a great side means that my squad are real heroes. I'm not thinking about other people's problems, about their frustrations, I am thinking positively." As it turns out, Jose really is Special.