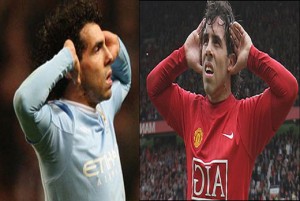 Man Utd fans are scared of the day when Sir Alex will eventually have to retire from the game. I mean the guy is so great and has done so much for the club that he probably deserves to be buried at the center of Old Trafford's pitch. And yet looking at the how the season has gone so far, one can't help but think about the lack of power in attack and why did SAF decided not to sign Tevez at the end of last season.
It was evident that with the exit of Ronaldo there will be a huge hole in attack but he wasn't the only attacking player to leave last summer. Carloz Tevez also followed him for the exit door and we are talking about two players who scored over 60 goals combined during the 2008/2009 season and probably contributed for just as many through their assists. And yet despite seeing them leave, SAF took no action towards filling this gap which is more of a large hole really. Now Tevez is at Man City and he keeps on scoring as he has been their best and most consistent player all season long. What's even worse is that he is bringing joy to the fans of not just any opponent but Man Utd's local rivals. I mean seriously, could SAF possibly do a worse move than that? That has go to be his biggest sin ever since he joined the  Red Devils.
Berbatov is struggling to score and it's evident that when Rooney is not play or even slightly out of form, United are having serious problems scoring in attack. And that's absolutely normal because you can't have such a big club solely relying on the performances of a single player. Considering how long Ferguson has been in the game, he should have known better than that. In fact, this mistake looks so blatant and huge that it kind of makes you wonder if the Sir didn't actually do it on purpose. Perhaps it was time for United to go through a season of drought as they had 3 EPL titles in succession and two CL finals in a row. And you know how the football world is – things rotate all the time. I guess it's Chelsea's turn to shine this year.
With all said and done, United are playing City tomorrow and Tevez of course will be a starter. Since BetOnWins.com is a site dedicated to providing accurate and free football predictions, let's just point out that Bwin is offering some really valuable odds for Tevez scoring in the derby. Tevez to score first is rated at 5.5 while the more realistic bet of Tevez to score a goal in the match (at any time, highly recommended) is 2.3!