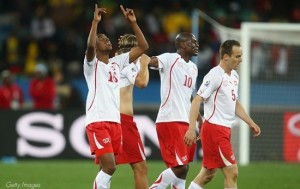 We have a very interesting Chile v Switzerland prediction as these two outsiders have put themselves in control of Group H where we have World Cup favorites Spain. No one counted on Switzerland against Spain and yet they won 0-1 pulling one the biggest upset of the tournament so far. The question is, how will they continue – will they remain on this super positive track or get a reality check today?
Both nations grabbed all three points in their openers and are now surprisingly tied at the top of the group level on Points and Goal Difference (+1), before the second round which will also see Spain take on Honduras. Chile played a very solid game against Honduras as they were compact and move as a single unit on the pitch. They looked stable at the back and were able to create plenty of chances up front even without their star forward Humberto Suazo who should take part in this match against the Swiss.
The Argentine Marcelo Bielsa is head coach of Chile and the really interesting fact is he had his first match under this job in a friendly against Switzerland in Vienna. Now, 33 months later, he will make a full cycle and we will see another interesting example of footballing irony at its best.
The stakes are much higher right now then they were in this friendly which is why our Chile v Switzerland Prediction is for a Draw which will see both nations remaining with chances of proceeding. On top of that, seeing Chile and the Swiss split the points today will put Spain back in contention as they have a sure win coming up against Honduras. So with a draw here, as our Chile v Switzerland Prediction is, will have those two sides with 4 points each while Spain will have 3 before the final round in which they play Honduras.
To continue with the Chile vs Switzerland prediction, the South Americans are the more skillful team out of the two but the Swiss will be incredibly motivated and in perfect mindset after beating the current Euro champions. Otmar Hitzfeld is an experienced coach who knows a draw will be enough for them here with Chile most likely losing their last game against a hungry Spanish side.
Chile v Switzerland Prediction: Bet On Draw @ 3,10