Tonight, December 7th, 2011, marks the last round of matches in the group stages of the Champions League. Eight teams qualified last night (actually several of them had quaranteed their spot in the previous round), and tonight another eight clubs will go through. There are some big question marks over the participation of the two Manchester sides, while in Group B, virtually all three teams are in the running for the second spot with Inter having already secured qualification as group winners.
Inter v CSKA Moscow Prediction
Our list of top Champions League predictions starts with the match between Inter and CSKA. Inter lost yet another game in the last week as Udinese defeated them at the Meazza 0-1, after Pazzini missed a penalty. It was yet another heart-breaking defeat for the Nerazzurri faithful as their team is sinking deep in the relegation zone. But despite their domestic troubles, Ranieri's men have done well in Europe's elite competition. It's like they are having a fresh start in this tournament and it allows to display a much larger part of their potential. But which Inter side will we see tonight is a big question that probably Ranieri can't answer in advance either. It has been confirmed that Vagner Love and Doumbia will start for CSKA and knowing how fragile Inter have been in the back this entire season, it's almost a certainty that the Russian side will find the net tonight. Inter should at least score in front of their few fans that are expected to show up for this game, so our money is on Goal/Goal for this game.
An interesting fact about this particular football betting prediction is that Diego Milito will be playing his 100th match for Inter, so one of the best Champions League tips for tonight is for the Argentine to Score At Anytime which bet365 offers at 2,75. Other likely goalscores are the two pictured above – Vagner Love and Doumbia.
Betting Verdict: Goal/Goal @ 1,83

Basel v Manchester United Prediction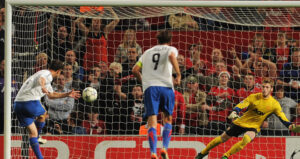 Sir Alex sees this one as "just another big game" for his experienced players. Indeed, experience will be on the Red Devils' side for this encounter as the players forming this team have taken part in loads of high profile fixtures in recent years, being involved in Champions League semis, finals, cup finals, big league derbies. However, Basel have proven they have no problems scoring goals against Vidic and company, so it will be an interesting and dynamic battle. Basel need a win go eliminate Manchester and players and fans are believing they can pull it of. Of course, there is nothing wrong about that but reality is that just like Chelsea last night, despite being on the brink of early elimination, United can still win this group with a victory tonight provided that Benfica fail to beat Romanians Ocelul.
Rooney will lead the attack supported by Nani and Young on the wings, and our expectation is for Wayne to end his scoring draught in this game. Rooney scoring at Any Time is offered at 2,10 by bet365.
Betting Verdict: Goal/Goal @ 1,80

Villareal v Napoli Prediction


Villareal have lost all their five matches so far. Thus, they have absolutely nothing to play for expect their pride. They will be looking to at least show some signs of fair play and self respect by putting out a strong display against an Italian side that has qualification on the line. A win for Napoli means they will go through, regardless of how the other game ends. Still though, we expect Villareal to show some pride and at least score once in this match, while Napoli will be doing all their best to win.
Betting Verdict: Goal/Goal @ 1,80