The Europa League is already in swing as  right now clubs from all over Europe go against each other fighting for a place in the groups and we got some very good Europa League predictions for today. This is the Second Qualifying round of the competition and there is one more round left to go in order to reach the elusive groups. And it's the third round where things get really interesting as some of the major forces in Europe will also chip in, like Juventus and Liverpool. That will prove to be a major incentive for these teams playing today as such potential high profile clashes can bring lots of money to them even if they lose with all the TV rights and UEFA bonuses involved.
Anyway, let's get back to our top football predictions for today. We have several high accuracy sports betting picks for you that can multiply your money by betting at a major online bookie like bwin for example. BetOnWins is all about delivering to you the best sports betting picks and that's exactly what we provide in this material.
Bnei Yehuda Tel Aviv v Shamrock Rovers Prediction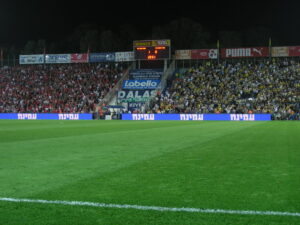 The first game played in Dublin, Ireland ended 1-1 as the home side were able to draw late into the Added Time of the Second Half giving themselves a chance to proceed. For this particular Europa League prediction, it's important to outline that the Away Goal Rule is on here, which means that for Shamrock to proceed, they will need to win or produce a draw with goals. Of course, another 1-1 draw will send the game to Extra Time which is in fact a highly valuable type of Bnei Yehuda Tel Aviv v Shamrock Rovers Prediction. The online football bookies rate this possibility for 1-1 draw at 8,50!
Bnei Yehuda Tel Aviv v Shamrock Rovers Prediction: However, Israel is a very hostile place for a away teams on the international football stage so it won't be easy for Shamrock to take anything from this game. But we still feel that Shamrock are the better side that will proceed and for that to happen they will need at least a draw, so your sports betting pick for this game is the Double Chance on Shamrock (Win or Draw) at 2,62!

Dundalk v Levski Sofia Prediction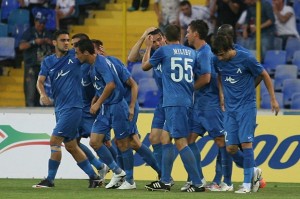 The first leg ended 6-0 for the Bulgarian side Levksi Sofia and now they will rest some of their main players. When it comes to making absolutely pro football predictions, it's very important to oversee the big surprises which happen in online football betting all the time. This right here is exactly the type of game where a surprise might be on the cards which is in fact one of our best Europa League predictions for today.
Online football bookies favor Levski to win which is absolutely understandable after the 6 goal trashing in the first game. However, one of the best sports betting picks here is to cover the Draw which is available at 4,20! Levski's head coach Jasen Petrov said he will give a chance to some of the unproven players in his squad and they also have concerns regarding the bad condition of the pitch that's expected tonight.
Dundalk v Levski Sofia Prediction: Bet on the LEvski to lead at Half Time at 2,20! This is the best Europa League prediction for today. Levski simple are the better side of the two and over a period of 45 minutes, they should be able to score at least once and take the lead at the break.