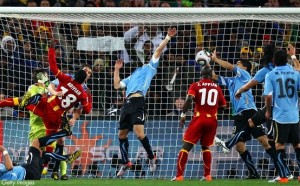 Accurate and timely news can be taken as football predictions and that's exactly the type of info we have here as Suarez and Lodeiro will miss Uruguay's Semi Final match against Holland. Luiz Suarez got a straight red card for clearing the ball off the line with his hands in the last minute of Extra Time. Suarez did something absolutely amazing and will certainly go down in the history of football with that play. Some will say it was not fair, but how can we blame a man doing everything possible for his country and to help his team win?
Suarez can only be admired for what he did and he will serve his punishment as did the Uruguayans. It's Ghana's players' fault they didn't take advantage of the situation. Had Gyan scored that penalty on the 120th minute, Ghana would have been in the Last 4 now, so they have only themselves to blame.
Uruguay's head coach Tabarez said it best: "When there is a handball in the penalty area there is a red card and the player is thrown out of the game. Saying we cheated Ghana is too harsh a word to use. I think it was instinctive. The player instinctively reacted and was thrown out of the match and he can't play the next match. What else do you want? Is Suarez also to blame for Ghana missing the penalty?"
What's really interesting is that Suarez will miss a match against the country where he plays his club football. Suarez is an Ajax Amsterdam player so it would have been really intriguing to see him biting the hand that feeds him. It's really unfortunate we won't get to see this, but such are the fair consequences of his handball.
If you want to be accurate in your football predictions and make money, you have to follow all the latest team news and have info on who which players will be available for selection. Now that Suarez is out, there are further bad news for Uruguay as they will also miss their influential midfielder Nicolas Lodeiro. Lodeiro suffered an ankle injury that will keep him out of Tuesday's encounter. With these two key absentees, one of the best football predictions right now is that the South American's fairy tale run in South Africa is about to come to an end against the Dutch.