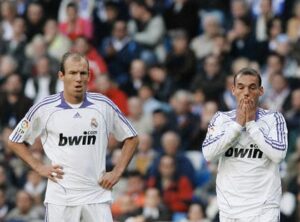 Football can be just as ironic as life and the latest confirmation of this fact comes from the two Dutch players Arjen Robben and Wesley Snejder. Last summer, the Real Madrid management decided to get rid of them in order to make room for their latest insane transfer market moves. Now, destiny is getting back at Real as both players will be back in Madrid on the 22nd of May but not to play for Los Blancos but to decide which one of the two will win the Champions League.
That's quite funny indeed considering that Real Madrid's management sold them in order to build a more "competitive" team who can go all the way in Europe's premier competition. Well, we all know how that turned out. Real dropped once again right after the group stage against what turned out to be the weakest semi finalist we've seen in years – Lyon, whereas Robben and Sneijder proved to be the key players that carried their new clubs to this year's Final. Robben was the one who carried the entire Bayern Munich on his back scoring their most important goals in the tournament – against Fiorentina in Florence, against Manchester United at Old Trafford, and the winner against Lyon in the first leg. Sneijder was just as influential to his team as he is the leader in assists in this year's Champions League (with 5) and is without a doubt Inter's most creative player that pulls the strings in midfield dictating the tempo of their game and constantly looking to give a cut through pass to either Milito or Eto'o.
Well, now Real Madrid should be feeling really sorry about themselves as they watch both players fighting for the trophy at their own stadium. They went on to spend hundreds of millions of Euros just to fail once again, while the players who they labeled as useless proved to be the protagonists for their respective clubs.
Here is what Robben said on the situation at Real during the summer of 2009 in front of Goal.com: "It was a ridiculous situation at that time. They said only: 'We want to sell you because we need money.' The football aspect was not talked about there, only the financial aspect was relevant to those responsible. On the one hand, they saw that only Wesley Sneijder and I could bring money into the club, on the other they have spent huge amounts."