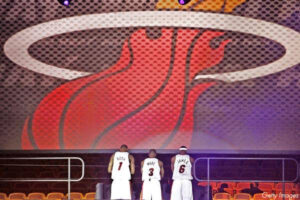 We continue our series of free NBA predictions and tips with an in depth analysis on what's about to come.  The 2010-11  NBA season doesn't start until early November but we can already sense the excitement due to all the free agency frenzy that took place this summer. Right now, the safest NBA prediction is that the upcoming season will be the most attractive, interesting and intriguing we've seen in years.
After The Smoke Is Clear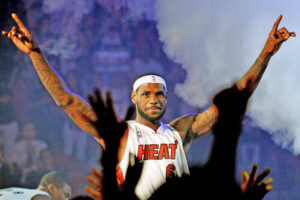 Most of the free agents completed their moves and now it looks like the face of the league is seriously changed for the better,  so it's about time we deliver on what we do best – giving you accurate NBA predictions and tips. LeBron and Bosh decided to join Wade in Miami, while Carlos Boozer landed in Chicago. Amare will be playing in New York for the next 5 years earning a whooping 100 million USD in the process! Al Harrington looks set to move to Denver as Carmelo requested the Nuggets management to add some power to their front court if they want him to stay.
Ray Allen and Dirk Nowitzki decided to remain in their respective teams, so expect the Celtics and Mavs to continue to be a force in the next season. Miami Heat power forward Udonis Haslem rejected some better paid offers in order to stay with the Heat and fight for the title. He signed a new, five-year deal with the Heat. Joe Johnson, who was another big name involved in the free agency madness this summer, will also stay in his current team as he agreed a six year contract extension worth 119 million USD!
So now that the smoke is clear, we can paint you an accurate picture on what's about to happen in the new season with our accurate NBA predictions. We analyze the condition and potential of the best teams right now.
Miami Heat – Our NBA pick to win the Eastern Conference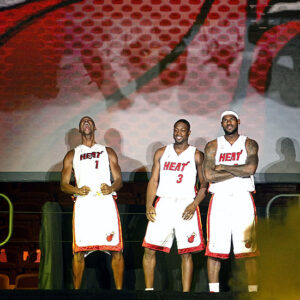 When Will Smith came up with his "I'm Going to Miami" hit like 10 years ago, he probably made it into the playlists of Lebron and Chris Bosh, because that's the type of song they are singing this summer. One of the best NBA predictions for the upcoming 2010/11 season is that the newly formed Miami Thrice will take the league by storm. Anyone who has seen how well D-Wade and LeBron understand each other on the basketball court knows what I'm talking about. Just watch the last All-Star game in Dallas to get the picture. These two machines throw alley-up passes to each other from one end of the floor to the other as if they were playing a video game. The two of them will be absolutely unstoppable particularly after they gel their game and form a good bond.
On top of all that, they also got another one of their close basketball friends to join them on their journey to an NBA title in the likes of Chris Bosh. CB4 (or should we now call him CB1?) is one of the best power forwards in basketball right capable of scoring over 20 points and grabbing at least 10 boards every night. LeBron and Wade can easily score like 30 points each with all the double teams oppositions will place on them. So there you have it – this super trio can deliver about 80 points per game, so the remainder of the squad has to just score about 20-30 more to ensure a win for the Heat. That doesn't seem like a hard task to accomplish.
And what's even better for the Heat is that they made Haslem stay and he is one of the most effective and hard-working guys you can have on your team. Last year he posted 12 points and 10 rebounds per game and he is not a big-ego type of player so he will have no problem playing in the shadow of the Big Three. With Haslem expected to play as center, all that Miami needs is a decent point guard who can safely bring the ball to the hands of Wade or LeBron. Well, they have this one already figured out as Carlos Arroyo along with Mario Chalmers can certainly handle this.
But the roster improvements for the Heat don't stop here. Pat Riley is a living legend in the world of basketball and has seen just about everything when it comes to our favorite sport. He has witnessed the game evolved tremendously over the past 40-50 years and now he has a unique vision that he is materializing in the city of Miami. He knew they will need a backup shooting guard after losing Quentin Richardson this summer, so he signed up Mike Miller from the Washington Wizards. Miller is a pretty decent shooter and he is now under a 5-year contract worth $25 million. Big Z was also brought in from Cleveland so the heat also have a reliable back-up center.
Well, with all said and done, here comes our NBA prediction tips. Considering their super trio, the Miami Heat should not have any major difficulties to win the Eastern Conference and reach the NBA Finals. Let's just hope they stay healthy as unexpected injuries is the only thing that can stop this team apart from ego conflicts in the locker room.
Chicago Bulls – Decent Additions In Chi-town

The Bulls were unable to capture either one of their main free-agency targets this summer, so they decided to go for a less glamorous plan B capturing one very effective power forward and one of the most accurate shooting guards in the NBA right now. Of course, we are talking about the former Jazz-men Carlos Boozer and Kyle Korver. With these two additions, one of the top NBA predictions for the upcoming season is that the Bulls will certainly make it beyond the first round and perhaps even fight Miami in the Eastern Conference Finals. They already have a strong nucleus in the likes of Derick Rose, Noah and Deng thus with Boozer and Corver the Bulls will have one of the better starting fives in the entire league.
Final Verdict: Our NBA prediction on the Eastern Conference for the upcoming 2010/11 season is a Final between Miami Heat and Chicago Bulls!