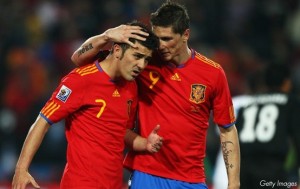 For a second World Cup in a row, we are about to witness an All-European Final as now that Holland has qualified, the only question left is who they will face and the we provide the answer in our Germany vs Spain prediction. This game is a repeat of the last Euro Final where the two sides met at the end in Vienna in an intense affair settled by Fernando Torres. The Germans who have so far been the most impressive and dominant side in South Africa, will be looking to take full revenge for this defeat at the Euro 2008 Final.
Both sides are full of quality and have their own reasons why they deserve a place in the Final. For once, Spain has never been there, while the Germans lost their last two Finals appearances at Euro and World Cup, so they feel like it's finally their time to lift the trophy. Both nations deserve their share of success making it even more difficult to come up with the right Germany v Spain prediction.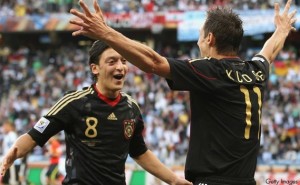 The majority of the players are the same as they were two years ago, with no less than 19 survivors from that Final – 11 of them Spaniards and 8 Germans. Germany is the side who went on to renovate their squad they did an excellent job doing that. Now they get to enjoy the youngest and most dynamic side at the World Cup filled with young prospects like Muller, Ozzil, Podolski, Kroos, Khedira, and Lahm who became the youngest captain of Germany. The Bundesliga outfit has a young nucleus and they also have the necessary experience in the likes of Klose who is on track of becoming the leading scorer at World Cups. With so many quality players on both ends of the pitch, it's really hard to give an accurate Germany v Spain prediction. What's certain is that Ozzil has turned into the best young player of the World Cup along with Muller so Germany has bright footballing future. Ozzil has certainly attracted the interest of some of Europe's top clubs like Inter and Barcelona so he might be transferred from Werder Bremen during the summer.
One of the top betting picks is to cover David Villa to score once again, as he has been on fire in South Africa.  Villa to score at any time is rated at 2,25! But a surprise and yet valuable Germany v Spain prediction is to bet on Torres to Score First (6,50) or at Any Time (2,75). The main thing to this particular football prediction is that Torres was the player who scored the winner for Spain in the Euro 2008 Final against Germany, so he will be feeling really confident against this side.
Thomas Muller will be a key miss for Germany considering that he has been their Most Valuable Player thus far along with Ozzil. However, even without him the Germans who have been the highest scoring side in the World Cup so far with a total of 13 should still manage to get pass Casillas. The Spaniards on the other hand must feel like they are yet to hit top gear in this competition. That's why a draw is the best Germany v Spain prediction in terms of regular time result.
Germany v Spain Prediction: This game has Extra Time written all over it. Bet On Draw as both teams are really good and pretty much on par given that each one has their own strong and weak sides. Once it goes into Extra Time, anything can happen. Betting on Torres or Villa to Score at Any Time are also high accuracy football predictions.