The most accurate Greece vs Argentina prediction is for Leo Messi to open his scoring account in this World Cup. The little genius has been going through a bit of slump recently, mostly down to bad luck and some great displays by goalkeepers. However, this has to come to an end and we feel that tonigh Messi will score his first World Cup goal against the Greeks.
As expected, Argentina and Brazil have been the most impressive sides so far in the tournament, both winning their first two games to practically guarantee qualification for the knockout rounds. However, ex-champions Dunga and Maradona are well aware of how important is to finish on top of the Group and play a second-placed team rather than first. So it's not over yet for the Argentinians.
Argentina are now 3 points ahead of the second placed team in Group B – South Korea, so just a point will be enough tonight for Don Diego's players to seal the top spot and advance. In terms of final result, the best Greece vs Argentina Prediction is for a Draw! This will ensure qualification for the mighty South Americans and it will also keep the drama for the second place in full swing.
Another accurate Greece vs Argentina Prediction is that Maradona will rest some key players like captain Javier Mascherano and Gabriel Heinze as they are both just one yellow card away from getting banned for one game, which is the last thing they need going into the last 16. Meanwhile, Jonas Gutierrez is suspended so Argentina will look shaky at the back with these three players missing, which is why Greece can cause a bit of an upset here.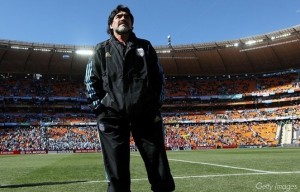 Of course, Messi will play from the very first minute, and he is yet to score a goal in this World Cup so one of our top Greece vs Argentina predictions is for Messi to score At Any Time at 1,83! Here is what Maradona had to say about his star player: "He will play. If you have a player as good as Leo, who is the best player in the world, I think it would be a sin not to give Messi to the people and to the team."
Greece are one of the worst sides to make it into South Africa, but that's all down to their huge lobby in FIFA and the good coach they have. Otherwise, in terms of class of their players, they are really poor. Their advantage is that they are a strong, physical side that plays in a very well organized style. They will certainly have good chances of surprising Argentina, which is why we feel a draw might be on the cards here.
Greece vs Argentina Prediction: It won't be an easy ride for the South American giants against a tricky opponent. The odds for a draw are quite good as bookies offer 3,80 which is indeed our betting advice for this match. Another accurate pick is for Messi to Score At Any time.