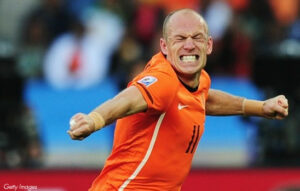 The World Cup drama is now in full swing and on the 2nd of July we are about to witness one of the biggest football games on national level, and great news is that we want to help you make lots of money through our accurate Holland vs Brazil prediction. The Dutch have certainly been one of the most impressive sides in the tournament. Brazil on the other hand is of course the main favorite to lift the trophy, so we are up for a well-balanced match.
Holland is the only side in this World Cup to have a 100% winning record! And this takes into account their road to South Africa. When it comes to football predictions in general, it's very important to take note of such winning runs, because they always come to an end at some point. The Dutch Masters won all their 8 qualifying games to reach the World Cup and are now 4 wins in a row in the Black Continent. So it's 12 wins on the trot for them, which is probably a bit too much even for such a classy team as them. 13 is usually an unlucky number and we certainly take this into account for our Netherlands vs Brazil predictions.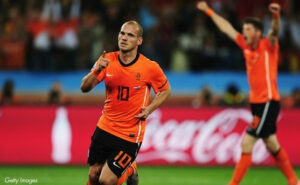 There are a number of reasons behind the Netherland's recent success on the international level. They have a solid squad featuring some of the best players in the world right now. Plus, we all know that the  Dutch footballing traditions have strong roots and have always produced talented players that are perfectly prepared on a tactical level. Most of the top individuals on their current roster come from the famous Ajax footballing system, such as the midfield engineer Wesley Sneijder, Van der Vaart, Robin Van Persie, and Heitinga.
Our best Netherlands vs Brazil prediction is for a really tight game that will most likely go into Extra Time! Of course, Brasil are still favorites to go through and will most likely do so, but it won't happen easily. The Oranges will be super motivated to finally have some success at a World Cup and now they have a great generation that's certainly capable of delivering the goods.
Both teams have been very impressive in defense so far and a proper defense analysis is the key to accurate football predictions. Holland have conceded just one goal so far and it was from a bizarre penalty in the 94th minute in their last game against Slovakia. So they are yet to concede a goal from free play. Well, if there is a side in the world that can achieve this task, that surely is Brasil. So another super accurate Holland vs Brazil Prediction is for Both Teams to Score, also known as Goal/Goal. This bet is rated at odds of 2,00 so you can double your money with it. At the same time, our official betting partner is giving you 20 euros upon registration, so if you register with them and deposit 20 euro, you will have 20 euros to bet on this Goal/Goal Holland vs Brasil Prediction, and even if it loses, will return your 20 euro stake! That's what we call a good deal.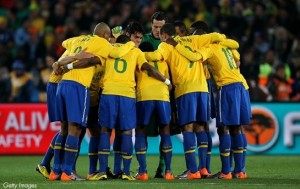 In terms of how regular time will end, the best Holland vs Brazil Prediction is for a Draw and the odds for that are 3,20! But then again, if there is Extra Time, the best soccer betting pick is to bet on one of the teams winning in Extra Time as the odds there are sky high, over 10! At the end, the reality should kick in and ground the Flying Dutch Masters. Brasil are simply the better side. They have the best goalkeeper in the world right now, Julio Cesar. Their defense has been super impressive lead by the Inter duo Maicon and Lucio, while Bastos is turning into one of the discoveries of the tournament and Lyon will surely have a hard time keeping him for next season. Up front, the Carioca can rely on the magic of Robinho, Kaka and Fabianho, while Elano is also expected to feature after shaking off an injury.
So a top bet is to cover the Draw in this Holland vs Brazil Prediction. If you register with Betclic, bet 20 euros on a draw, it's a no-lose situation because you either win 20 euros x 3,20 (odds for draw) or get your money back if either side wins in regular time. A super value tactic is to bet on either side to lead at Half Time and then the game to end in a draw in regular time. These First Half/End Result bets provide very good odds. Holland/Draw and Brasil/Draw are available at 15,00 so if you bet 10 euros you will get 150 in return!
Holland vs Brazil Prediction: We are expecting a tight game that will most likely go into Extra Time. The Dutch are just too good to get blown away in regular time by Brasil.  At the same time the Brazilians are not so much better than the Oranges right now, so it will be very hard for them in this game. Both Teams will score in regular time so betting on Goal/Goal is the safest football pick here.