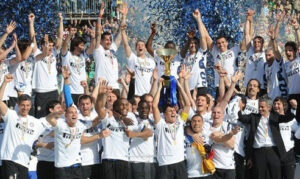 Inter are now officially winners of the Seria A 2009-10 as they managed to beat Siena 0-1 in the final round of the season. This is now the 5th consecutive Seria A title for Internezionale and 18th total surpassing city rivals AC Milan who have 17.
It was an extremely difficult match against Siena due to all the pressure that was weighing heavily on the shoulders of all Inter players. But Jose's men proved to be real players with big hearts as they fought with loads of courage and determination throughout the entire 90 minutes. They missed a lot of chances and Balotelli hit the cross bar with a superb overhead kick in the 1st half.
It was their hitman Diego Milito who brought the victory once again scoring the most important goal of his career so far in the 57th minute after a great through pass by captain Javier Zanetti. But the way Milito finished it was pure class as he beat the keeper with the outside of his boot. Great goal by a great player and an overall great performance by the entire Inter team.
The interesting fact is that Inter president Massimo Moratti had a birthday on that day (16 May) and without a doubt, this is the best birthday present he has ever received in his entire life. On his 65th birthday, Massimo Moratti watched nervously the entire game from the stands as his team wrapped up the club's 18th Scudetto. Here is what he had to say after the final whistle: "I am happy, very happy, We suffered until the end but the boys deserved to win. Can we say that this is the Scudetto of Mourinho? Certainly, it's the Scudetto of Mourinho. Now we can think about Madrid. We have to do well there too to complete the job."