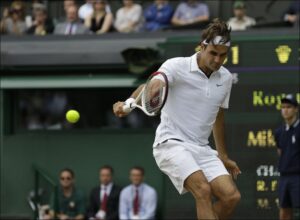 With not much going on in the worlds of football and basketball, we have decided to switch our attention to the largest sporting event at the moment – the Wimbledon tennis tournament. Fans of the game are set for a classic encounter between two of the greatest players ever. This is actually a "final before the final", as the other semi is between the local favorute Andy Murray and Tsonga. Truth is that British fans, despite not having seen a fellow countryman win Wimbledon since 1936, might have to wait even longer, because a final against either Djokovic or Federer looks like a very, very hard mission for Murrary to accomplish.
But back to our Djoko v Fedi prediction, the bookmakers are tipping the Serbian star to shine once again and the odds for him are as low as 1.40. Meanwhile, the real betting value is on Federer as you can tripple your money by backing him up. We are going to be absolutely straight and upfront with you – our money is on Federer to pull off an upset here, make his way to the 2012 Wimbledon Final and win the trophy. We have plenty of reasons to believe that.
Firstly, the value is on the Swiss. Trippling your bank by betting on Federer in the game's biggest tournament, is always a reasonable decision, because he is arguably the greatest player ever and can beat anyone. Of course, Djoko is younger and is currently ranked number one, which is why the bookies are favoring him. But in sports betting, it's always best to bet on high quality players/teams whenever they are underestimated.
Secondly, we have been watching how Federer has played throughout the entire tournament, and he looks like a man on a mission. A mission to reach the top of the ATP rankings for a record-setting 284th week and get as much as Grand slam trophies as possible before he calls it quit. He is moving quickyly up and down the court, Nadal who is his most difficult opponent got eliminted, so it's just Novak standing in his way.
Last but not least, Wimbledon is Federer's favorite tournament. It's no coincidence he has won it a record six times. It's the type of surface that's very suitable for his game, and allows him to make the most out of this competitive advantages and distinctive style.
Djokovic v Federer Prediction: Bottom line is that Federer has a good shot at beating Djoko and at the odds of 3.00, we defenitely like his chances.
Betting Verdict: Federer to Win @ 3.00
*Result: Federer wins 6-3, 3-6, 6-4, 6-3