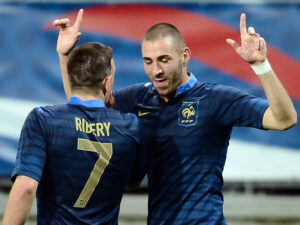 It's shaping up to be a spectacular EURO with all the matches thus far having lived up to the initial expectations, and for June 11th we have prepared for you the most accurate France v England prediction. It's a very interesting Group D, where these two top footballing nations are joined by the hosts from Ukraine and Sweden led by Zlatan Ibrahimovic.
The bookies' France v England prediction is for a win on Le Blues as the odds on them are rated at 2.40, while the Three Lions have "value" written all over them as Bet365 pays off at 3.25 for them to win. The draw is locked at 3.10, and it's always a reasonable betting pick when such high quality sides meet early in the group stage. France's coach Lauren Blanc is not buying into all that. He expects a strong challenge from England, despite some of their lineup problems.
Our website is dedicated to making the best predictions for the Euro 2012, and as per this particular game, there is no denying the fact that newly appointed English manager Roy Hodgson has some serious selection issues. Wayne Rooney is suspended for the first couple of matches, and given how sterile the Brits are in attack, not having their absolutely best player certainly won't help. In the absence of Rooney, England will have to rely on Andy Carroll, one of the biggest flops in the history of Liverpool full of such. And if that wasn't enough, Frank Lampard got a serious injury just a week ago, and we will miss the entire tournament. The other notable absentees are Gary Gahil and Gareth Barry.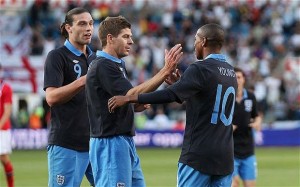 In front of reporters yesterday, here is what Blanc had to say in relation to this France v England Euro 2012 prediction: "Don't worry, the English will show up ready for us. They always want to win and even more so against the French. England are very strong in the tackle and very committed. I saw their two warm-up games [against Norway and Belgium] and if they play the same way, they'll play very deep, with two banks of four and looking to counter. We'll have to make sure not to leave too much space and get caught out, because Steven Gerrard is a very good passer."
These are all squad issues that certainly swing this France v England prediction in favor of Le Blues. They will be the side to enjoy a much superior possession of the ball, while England will as Laurent Blanc mentioned form two blocks of 4 men in front of their keeper and try to score on the counter attack. France certainly has the players that can beat a defender and create an advantage in attack, with the likes of Benzema, Ribery, Valbuena, Malouda, Ben Arfa and Samir Nasri. It seems they have the better side in terms of individual and attacking quality, but one should never underestimate England.
France v England Prediction: Both Teams to Score @ 2.25