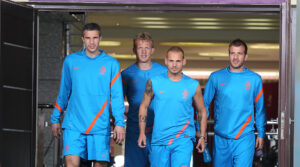 One of the biggest classics in European football is about to be played on the night of June 13th, so we bring you the most accurate Holland v Germany prediction. These two footballing nations share a lot of heated history – the 1974 FIFA World Cup final, the 1988 EURO semi-final, and a very tense and dramatic encounter at the 1990 World Cup. Another chapter will be written with this Holland v Germany prediction for June 13th.
Holland started with a surprise defeat against Denmark who everyone had written off in this 'Group of Death'. Truth is that the Dutch were not as bad as they were unlucky. They had 28 shots and not a single goal! How often does that happen? Even the Danish coach admitted his side was extra lucky on that day. So now, the Flying Dutchmen have their wings cut off and their backs against the wall, knowing that a second defeat would send them back packing at such an early stage of a tournament that a lot of experts and the players themselves thought they had a great chance of winning.
But in order for the Orange to prevail in this Holland v Germany prediction, they will have to play an almost perfect game. Recent form however does not speak in favor of that happening. They had some really bad performances during the final friendlies and had a flat tire during the opener. Yet, big teams like that have the ability of producing some of their best performances against such high profile opponents.
One of our predictions for EURO 2012 is that Germany will make it into the 'Final Four' and have a really good chance of lifting the trophy. They are the youngest side in the tournament, which gives them a tremendous intensity and energy in all areas of the pitch. Established young stars like Oezil, Muller and Podolski give the spark and creativity in attack. The Germans as in all major competitions, once again have filled one of the best organized teams out there, incredibly well coached and prepared, capable of going all the way.
A very interesting figure about this Holland v Germany prediction will be Arien Robben. The man who a lot of Bayern fans have fallen out of love for, can now increase the heat of German fans on him by scoring a goal or two in this game. Robben is well known by the entire opponents' defense, which is mainly comprised of Bayern Munich players. But the whole intrigue and obstacles surrounding this game will certainly make Robben quite eager to impress. A good betting tip for EURO 2012 is on Robben to score the 1st goal.
Both coaches have fully fit squads to choose from, and when you examine them individually, one can't help but give a bit of advantage to the Orange despite their recent struggles. Most people interested in an accurate Holland v Germany prediction for EURO 2012 would like to know whether Huntelaar would be given the chance to replace the Van Persie or perhaps join him in attack. It would be a huge mistake if the Dutch coach decides to bench Persie, as that would almost be a way of saying – "It was your fault we didn't beat Denmark". Plus, Van Parsie is coming into this tournament from his best ever individual season in his career where he practically carried the entire Arsenal side scoring in just about every game.
Of course, one of the keys to this Holland v Germany prediction is the midfield battle. Whoever wins the battle at the center of the pitch will win the game, and the Dutch do have some of the best players in the world there. Wesley Sneijder is pure class and could be a real difference maker. Van der Vaart is another midfield maestro that needs to be given a chance. Van Bommel and De Jong are the defensive midfielders that bring in the toughness. So Holland have a great midfield line that can take over the game.
June 13, EURO 2012 – Holland v Germany Prediction: Goal/Goal @ 1.72