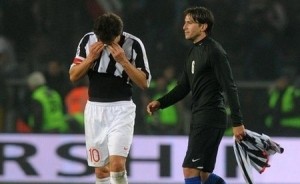 A group of nearly 80 Bianconeri fans expressed their disgust with the  team's poor performances during the whole season by bombarding the team bus as it arrived in Milano for the Derby d'Italia, on Apr 15, 2010.
The Juve supporters were throwing anything they could get their hands on, from tomatoes and eggs to rocks, firecrackers and smoke bombs. This medicour scene took place in Pieve Emanuele, just outside the hotel where the players are currently staying.
Once they finished throwing stuff, the furious group went on to chant for over 10 minutes demanding better results from their team and improved on-pitch performances. Such a wish couldn't have come at a more difficult fixture for Juve as their playing a fiersy Inter side fighting for the Scudetto.
Nevertheless, from a purely betting perspective this scene is quite meaningful indeed. There is no way that such an aggressive and yet emotional act from their supporters has impacted the Juve players and they should be in full alert for the game and insanely motivated. Therefore it's quite certain they will manage to score at least one goal tonight and as a matter of fact, considering that Inter has Barca to play against just 3 days after, we might be in for a big surprise here…