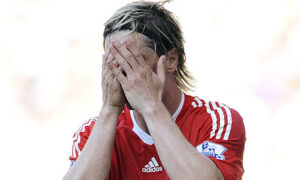 Here we have a very interesting Liverpool 2010/11 season prediction that should give you a lot of useful betting insights. Few things are right in Liverpool. Anfield faithfuls haven't enjoyed winning the Premier League for the 20th consecutive year and a lot of people thought this was finally about to end this campaign. A two decide long period of drought is way to big for a club of such magnitude. Fans are tired of waiting but it looks like they will have to wait for at least another year.
Our Liverpool 2010/11 Season prediction might seem harsh but it's real. In a recent interview for Sky Sports News, even Jose Mourinho confirmed Liverpool are going from bad to worse: "It is very difficult work for Roy to do it with Liverpool as, over the last years, they have been getting worse, worse and worse. The Liverpool of 2004 was better than the Liverpool of 2005, 2005 was better than 2006 and 2006 better than 2007."
There is so much chaos and troubles surrounding what once was England's best football club, that fans at Anfield have every reason to feel worried. First, they sacked Rafa Benitez, the man who brought them their last major successes (Champions League trophy, European Super Cup), and from what we have seen so far this season, it doesn't seem it was the Spaniard's fault for the team's poor displays. Liverpool simply don't have the funds to make significant moves on the transfer market and without the ability to bring in some top players, not even the best manager in the whole Universe can win trophies in the super competitive world of modern football.
Joe Cole Equals No Goal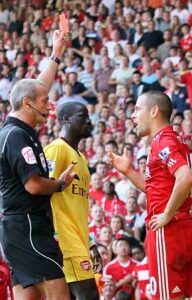 Liverpool didn't attract the players they so badly needed in order to get on par with Manchester United and Chelsea in terms of squad depth, quality and class. They swapped one shady player with another – Bennayon was exchanged for Joe Cole, which is another super bizzare topic as fans are not normally use to seeing players from Chelsea and Liverpool to change sides. And seriously, Joe Cole looks past his best. Otherwise, why would Chelsea let him go for free? It just doesn't seem normal. And so far Joe Cole is not proving us wrong either. He got a straight red card in his debut against Arsenal leaving his team with 10 man for majority of the game ultimately costing them the win. Then he missed a penalty against tricky Trabzonspor side in his next match – the Europa League playoff.
Financial Instability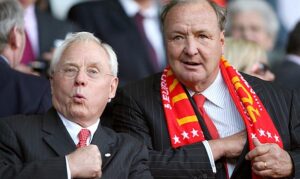 Then we come to Liverpool's next major problem – the ownership. We are reading all the time about speculations and investors from all over the world being interest in buying the club, however nothing real has happened so far. That's a problem casting a dark shadow over the future of the club. And even if it's an off-field matter, it does affect negatively the whole organization of the club which transmits over the players. There is a lot of financial insecurity over there and the club has been reporting significant debts accumulated over the years.
The Big Mess-cherano
This is turning into a real summer soup opera. Javier Masherano went on to publicly admit he wants to leave Liverpool and we now we get to see a "big team" rely on a player that doesn't want to stay. Javier Mascherano is one of the most unervalued players in the world of football, he does so much on the field but since it's everything but scoring goals, not a lot of fans appreciate what he does. Truth is that every coach in the world would do anything to have such a players on his side. He brings balance to a team. He connects the defense with the offense, stops dangerous counter attacks, intercepts the ball, runs hard, challenges for every ball, he basically is the ultimate dirty worker.
He was selected by Roy Hodgson as a starter against Arsenal and the Argentinian was the best player on the field. However, speculations are still rising about him leaving. First, Inter were the main favorites for his signature as Javier expressed his desire to follow Rafa Benitez to Milano. Now it's all about Barcelona wanting to get him. Either way, the man is wanted and he doesn't want to stay. The only thing stopping the deal from happening just yet is his price tag. But should this transfer happen, regardless of the direction (Spain or Italy), it will be another major loss for Liverpool. Just like the way the lost Xabi Alonso to Real Madrid last summer and have not been able to replace him ever since.
On the other hand, if Mascherano stays he won't be settled which will again have a negative impact on his game. So whatever happens, Liverpool will suffer from this whole Mess-cherano.
When Is Torres Coming Back From The Big Depression?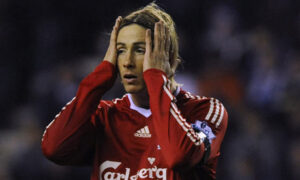 Ever since Torres changed his hair cut, he has been in a crisis. Such a drought was last seen in the United States in the 50's in the years of the Big Depression when they made alcohol illegal. Fernando has not been his usual self in the last 4-5 months. He ended the 2009/10 season poorly, didn't score a single goal at the World Cup which Spain won and played 7 matches, and now is still looking insecure and unconvincing. For Liverpool to have any chance of lifting themselves up this new season, Torres has to regain his scoring touch.
Liverpool 2010/11 Season Prediction: Out of the Top 4 in England once again. No trophies. Don't rely on Liverpool when you bet this season and it's actually better to go after their defeats.