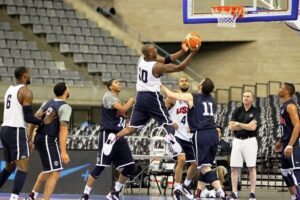 Looking at the 2012 USA Olympic basketball roster, there is such an abundance of talent even without the injured Howard, Wade, Rose, Griffin and Bosh. But the player on the current team to have won the most NBA championships is Kobe. Actually, few might have noticed but there is one really funny fact about this version of the USA "Dream Team" – Kobe Bryant alone has won five times more titles than all the players on the Olympics roster in total. The only other player with a title on this entire team is now LeBron James. So one has to feel that Kobe is the real leader of this group.
Here is the complete 2012 USA Olympic basketball roster for you: Bryant, Paul, Chandler, Durant, James, Love, Anthony, Westbrook, Williams, Iguodala, Harden, Davis. You can see this team is filled with 2s and 3s type of players, making it geared towards speed and athleticism. The 2012 USA Olympic basketball team is going to be a real run-and-gun show. But what's going to be the role of Kobe Bryant on team USA?
Those of you who watched the pre-Olympic basketball exhibitions probably saw that Kobe wasn't so assertive and even had some games with just 2 or 3 shots taken. But that's why these games are called "exhibitions". The Black Mamba, at the age of 34, knows how to pace himself. Knows how to make the most out of his energy. I am pretty sure that in the final stages of the 2012 Olympics Basketball tournament, KB's number will be called and he will answer promptly, just as he always does.
He knows that he doesn't have to prove anything to anyone. He is just out there trying to represent his country in the best possible way, but also to get in even better shape for next season. Kobe is certainly looking forward to it now that Nash joined the party and Dwight Howard looks set to come as well. Stats have shown that after participating in 2008 Olympics in China, both LeBron and Bryant's individual numbers went up on the next NBA regular season, and that's no coincidence. Being on team USA allows these guys to have the best competition possible during the otherwise free summer months. That will enable all the players that are currently on the USA 2012 olympic basketball team to be the very best performers in the NBA for the 2012/13 season.
Cause you get to practice with all these great ballers everyday, and that really pushes your boundaries and makes you a better player permanently. That's what the 2012 London Olympics experience is all about for the USA mens basketball roster. Of course, travelling the world with such a group of friends/young millionaires and wearing that USA basketball jersey are feelings that remain for life.