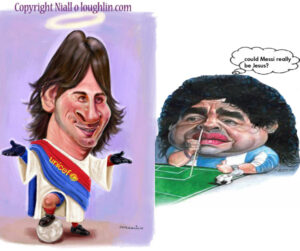 Lionel Messi has not only the ball but the entire world at his feet and the similarities in terms of playing style between him and Diego Maradona are more than a few. Don Diego knows that Argentina's hopes for World Cup glory this year rely solely on how the Barcelona superstar will perform in Africa. What looks certain is that if he maintains form footballs fans worldwide are in for a lot of spectacular moments.
Here is what Diego says of Messi in an interview for The Guardian:  "He's at a select level, being the best in the world and a star at Barcelona. Lio is playing kick-about with Jesus. There are moments when you are invaded by loneliness, but you have to be strong so you don't end up doing things one did. I spoke to him a lot about this."
Now we all know what Maradona meant by that "…don't end up doing things one did." That "thing" is coce and that "one" guy quals him. But if there is one thing that looks obvious when you look at Leo Messi is just how good of a person he is, a type of person that would never get involved with such things simply because it's not in his nature.
So please Diego don't worry about your fellowman but figure out your lineup and tactics once and for all. Maradona probably set a world record of most players called up during a single qualification campaign. Believe it or not but he actually ended up calling a whooping 101 players in just his first 15 months as head coach. "If I am criticized because I call up 100, I will call up 150", said Maradona. What's even more bothering is that even though we are talking about such a staggering number, some of the most in-form Argentians during that period didn't get the call, like Diego Milito from Inter for example. Riquelme is also out as he is in conflict with Maradona, but he is a bit too old for another WC anyway.
Here is how Maradona ended his interview for The Guardian: "How could I not be happy for Messi to win the World Cup? The Maradona and Pelé polemics will end and the best thing is that Messi is Argentinian."