<!– google_ad_section_start –>
Inter Won the 2010 European Champions League by beating Bayern Munich 2:0 at the Bernabeu. It was a great performance by Internazionale that will go down in history. Diego Milito scored a brace hitting in the 35th and 70th minute with two spectacular finishes. But it wasn't just Milito as the entire Inter team played as one, was perfectly organized on the pitch, defended exceptionally and had the better chances in the game.
Inter was the better team on the pitch and it was a well deserved victory for them. Bayern had a few decent chances, especially at the beginning of the 1st and 2nd half, but Inter's solid defense made it impossible for them to score. Robben was trying to win the game on his own and he was the only threat for Julio Cesar who had a great game once again and proved just why the ones who know football regard him as the best goalkeeper in the world right now.
Finally, after investing over a billion Euros in Inter over the last decade, Massimo Moratti made his dream come true and won on the biggest stage of international club football. His father, Angelo Moratti was Internazionale's President in the club's previous success in Europe back in 1964-65 when the club won two European Cups in a row.
Jose Mourinho proved to be "The Special One" once again as he lead Inter to their first international glory after 45 years of waiting. No other coach managed to achieve what he did in just two years and it's really unfortunate for Inter fans to see him leave after all the success he brought to the club. Bravo Jose! Bravo Inter!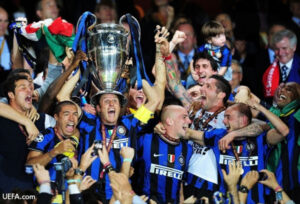 Javier Zanetti deserves just as much praise as Jose as the Incredible Inter Captain won on the biggest stage in football after going through so much suffering with Inter over the past 15 years. After having played 700 matches in the Inter shirt, he will certainly enter the history of football and is now a living legend for the Nerazzurri.  At the age of 36, he plays like a man in his twenties and it's interesting to note that he was actually the first signing that president Massimo Moratti made when he took charge of the club back in 1995.  "It's the most important and beautiful victory," he told UEFA.com. "We all deserve it, and I'm proud to be the captain of this great Inter team." In exactly his 700th match for Inter, Javier Zanetti won the Champions League!

<!– google_ad_section_end –>