The NBA season has entered its second week, but a lot of drama has already taken place. Lakers have continued from they left off last year. They have been shooting poorly, losing games, and causing all sorts of headaches to their fans. The purple and gold are yet to win a game this season after their 0-3 start to begin the campaign. Meanwhile, the Nuggets have split the first four games with the silver lining being an impressive win at Golden State at the odds of 3.00.
The big question about this NBA Bet of the day is can the Lakers finally get a win here? The odds for an LA win are stacked at about 3.00, so you could tripple your money, but obviously, that's not very likely given how badly they've played so far and the fact that they will be missing Russel Westbrook. Regardless of how much Westbrook has been criticized ever since coming to LA, Russ is still a really good player. The problem is that he is not in the right situation. He is just not a good match with Lebron as both have a similar style of play. They are triple-double machines that dominate the ball, and are among the best at going with force to the hoop. The thing is that they are so identical that they just get in their way.
But just to confirm one thing about this Lakers at Denver prediction is that Westbrook will miss the game due to a hamstring injury he picked during the offseason. He was playing through it in the first three games, but we all saw how bad that went.
Trouble in LA-LA Land
As things currently stand, Lakers are the worst shooting team in the NBA. They are dead last in the three point field goal percentage category at about 22%. They've had good looks, but they just can't score. It's not surprise they've been having these good looks. Opposing teams are simply daring them to shoot knowing they would miss about 80% of the time. Lebron needs shooters around him. His game is predicated on driving to the hoop, getting double and triple-teamed and finding the open man who has to make a wide open shot.
The problem with this current Lakers roster is that they don't have enough (if any) players capable of shooting at a high percentage. Instead of getting Westbrook, Rob Pelenka should have went for his Wizards teammate Bradley Beal for example, or a guy like CJ McCollum. I'm shocked at the news that Pelenka got a contract extension after putting up such a poor roster around LBJ.
Bottom line is that this Lakers team is poorly constructed, and they have no chance of winning the championship this year, which is always their goal to begin with. Still, with a player like Lebron James, they have a good chance against any team, if they (the opposing team) has a bad day at the office.
Things Are Looking Pretty At the Mile High City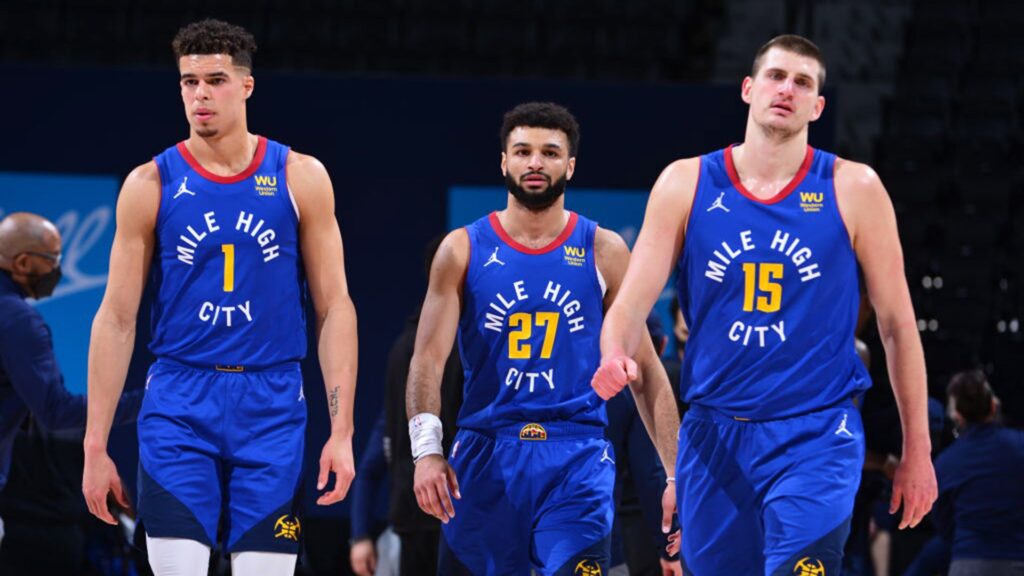 Meanwhile, things are much better at the Mile High City. Mike Malone is enjoying the return of two key players that missed most of last season – Michael Porter Jr, and Jamal Murray. Michael Porter has look real solid in those first two games, while Murray does look rusty, and we will need at least a couple of months of regular NBA basketball to get back to this best. Still though, the Canadian guard is a more than welcome addition to the Nuggets squad that has always been resilient and feisty.
Aaron Gordon who was attracted in a trade with Orland last year has been playing well and is one of the best 4s in the game. Another really important addition was Kentavious Caldwell Pope (KCP) – a player sorely missed by the Lakers (was on their bubble winning squad in 2020/21) as he can shoot the three and defend quite well. Combined these really good players with the Joker, and you have one of the best starting fives in the league right now.
LA Lakers at Denver Nuggets Prediction
We have a winning betting pick on this NBA game reserved for our paid members. Register to see our betting pick below.
LA Lakers to Win @ 3.00 On Money Line ❌
*Final Score: Lakers at Dener 99:110