Two of the most exciting teams face off in the NBA as Luka the Don and his Mavs travel to Cleveland to play Donovan Mitchel and the Cavs. The Dallas Mavericks have had an up-and-down season, and currently occupy the 9th spot in the West which good just for the Play In, and that's not where they want to be after making it all the way to the Western Conference Finals last year. The Cavaliers are in a much better position currently holding the 3rd spot in the East with a record of 19 wins and 11 losses.
Here They Go Again, Looking At The Team's Last Meeting On Wednesday
What's interesting about this NBA betting pick and Mavs and Cavs prediction in particular, is that the two teams met just five days ago, in Dallas, and it was Cleveland that won the game. It was a low scoring game for today's NBA standarts, 105:90 in favor of the visitors. Still, a major win for the Cavs with a 15-point difference. Mitchell scored 34 points, but it was the strong showing of Lamar Stevens that was even more impressive and surprising as he contributed with 18 points which is nearly three times higher than his scoring average of 6.9 PPG.
Cavs' twin-towers Mobley and Allen added 14 points each in the last game between the two teams on Wednesday. One of our free betting tips for today is for both of them to score more this time against a Dallas team that likes to play small ball. Still, their presence should mean increased minutes for Chirstian Wood and he did play 35 minutes in the last game, in which time he had 20 points and 7 rebounds. Expect Wood to go over his scoring line too.
The Cavs Are Good, Especially At Home
This Cavs team is loaded with good players. Mitchell actually thanked Dallas for eliminating his Jazz team from the playoffs last year, so that he can now be at Cleveland.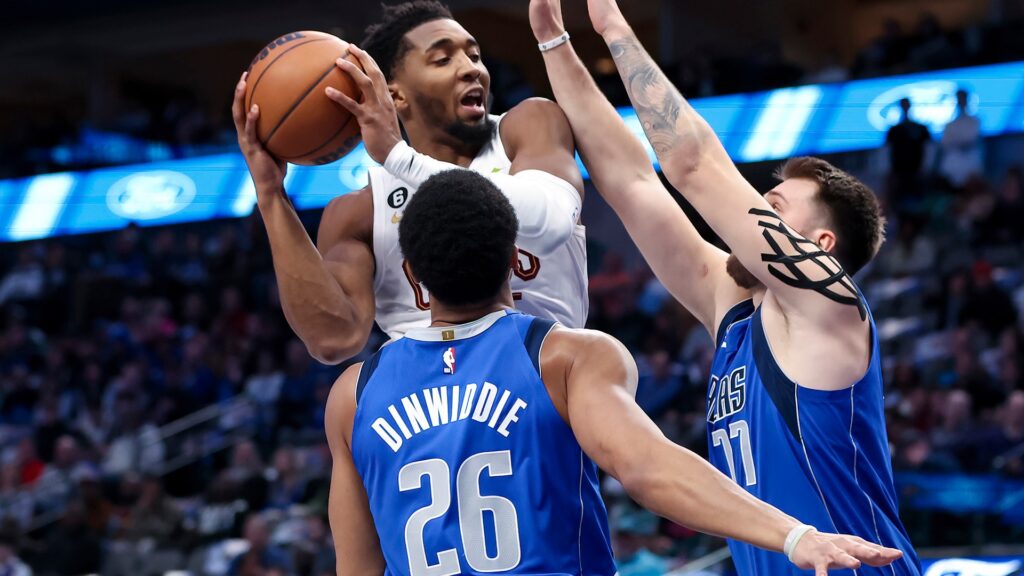 ''I think for me it's just understanding at the end of the day, they're kind of the reason I'm in Cleveland. So I'm thankful I'm here. I'm glad to be here.''

Donovan Mitchell in his press conference after Cavs at Mavs last Wednesday
Ricky Rubio and Dylan Wade are the only missing players for the home side in this Mavs at Cavs prediction. Cleveland now have a formidable squad that can easily do without the Spanish point guard. Darius Gaarland is one of the best young point guards in the game, combined with Mitchell, Cleveland have one of the better backcourts in the entire NBA. Mobley is skillfull, long and athletic. Allen is a monster on the class. And then they are pretty deep too. Their bench features Kevin Love, an NBA champion (with the Cavs in 2016) and former All Star, Caris LaVert, who is a an absolute bucket, Cedi Osman who is a very good two-way player, Robin Lopez. At home, the Cavs have a record of 13 wins an just 2 losses.
Are The Mavs Better or Worse This Year?
This Mavericks team is really interesting. They do have plenty of talent, but it's questionable if they have actually improved this year. They opted to not match Knicks' offer of $104 million dolar deal for Jalen Brunson, and it looks like they made a bad decision now. Bronson has been playing like an absolute All Star this year, leading the Knicks to an a really improved record of 16-13 and with multiple 30+ point games thus far. Meanwhile, you can tell that the Luka Doncic is missing a side kick. If he is going to play Batman every night, he needs a Robin. A Pippen to his Jordan if you wish, and there is just no such guy on that Mavs team. They do have plenty of good role players, but an actual second super star, and nowadays the top teams want to have like three of those.
The one improvement the Mavs did this offseason is add Christian Wood who was sensational last year in Houston, but surprisingly enough, Jason Kidd has not been playing him that much. Wood is a gifted scorer and he can play a much larger role, in my opinion.
Mavs at Cavs Prediction
Picks of this quality ain't free, so if you want to get our winning betting tip on this game, the World Cup Final and our top betting picks for the days ahead, register below and become a BetOnWins member.
Dallas Maverics To Win @ 2.60 On Money Line ❌
*Final Score: Cavs Win 100-99 In Overtime...
Please register to view our paid betting picks.