Today's most accurate Premier League pick comes from our Man City v Everton prediction for October 5th, 2013. City were given a hard lesson by the reigning European Champions Bayern Munich. A 3-1 trashing at their own stadium goes out to show just how far they actually are from Europe's elite teams. It even shows that the Premier League itself is somewhat bellow par as City were able to beat United quite comfortably winning 4-1 at the Etihad just a couple of weeks ago. Meanwhile, the Toffees have made their best start in club history as they are yet to be defeated after the first seven rounds. Will that remain the case after Saturday's opening fixture? Find out the answer in the most accurate Man City v Everton prediction.
If there is one player that can be blamed for City's midweek Champions League defeat, that's got to be England's national goalkeeper Joe Hart. It's a fact that the Citizens were totally outclassed, outplayed and outnumbered by Bayern on that night, but all three goals can also be attributed to some sloppy goalkeeping. It now remains to be seen whether Manuel Pellegrini will keep the faith in him. Hart is still quite young and according to stats, he had not conceded three goals in two consecutive games since his days at Shrewsbury as a teenager. So this is a crucial moment for the young lad in a sense that he would have to respond under pressure rather than being in his comfort zone as he was for the majority of last season. However, it does seem that Pellegrini does not hold substitue Costel Pantilimon in such a high regard, so one of our Man City v Everton predictions is that Jor Hart will be the one between the posts.
Gareth Barry is ineligible to against his parent club as part of his loan deal that sent him to Everton. David Silva is set for his first start since August after suffering some injuries at the start of this season, but had a noticeable impact against Bayern in just 20 minutes as a sub. Pieanaar is definitely out of the game, while Darron Gibson and Kevin Mirallas are listed as "doubtful". Steven Jovetic could make his debut for City. These are the most important team news related to this Man City v Everton prediction for October 5th.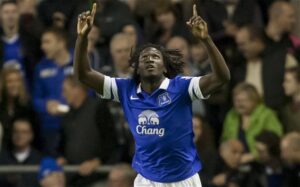 The man pictured above, Romelu Lukaku has been in superb form lately, hitting six goals in his last five matches. Lukaku's game is somewhat similar to that of Didier Drogba – a tall and strong center forward, playing with confidence and great finishing ability. Given the hosts' shaky defensive displays lately, it looks quite likely that Everton would be able to score at the Etihad. Their head coach Roberto Martinez knows the right formula for success against City and if you are looking for proof, looking no further than last season's FA Cup Final that he won against that same opponent but in charge of none other than Wigan (a club that's now in the Championship).
In terms of the provided betting odds, it seems that the bookies' Man City v Everton prediction is for a home win rated at 1.70. The draw has the most value to it at 3.90, while the away win seems quite unlikely with odds as much as 5.75.

An interesting fact about this encounter is that City have managed to beat Everton just once in their last eight meetings.
Man City v Everton Prediction: To get our best betting picks for today along with this City v Everton prediction, register here.