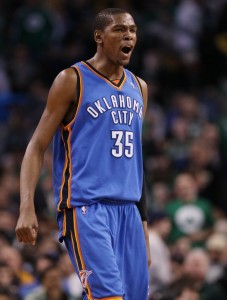 The NBA Playoffs are now in full swing and we start our series of NBA predictions with a hendicap of +7.5 points on OKC agains the Lakers tonight.
This matchup has the potential to deliver a lot of great plays down the stretch and features a duel between Kobe and the future of basketball – Kevin Durant. Clearly OKC were hoping to aviod the Lakers in the first round but the finished the regular season with some really unfortunate losses blowing big half-time leads on several occasions (against the Warriors and the Blazers). Now they will be looking to make up for those mistakes by putting up a strong performance against the defending Champions.
There are a lot of question marks for the Lakers. Kobe's health is under serious quetion as lately he hasn't been particularly impressive to say at least. Maybe he was saving himself for the Playoffs, we are yet to find that out.
Another bad news for the LA side is that Andre Bynum is out and that'  a big loss for them. It means they will have troubles under the rim and OKC will be looking to score a lot of second chance points.
BetOnWins NBA Prediction: The Money Line for an OKC win here is quite  lucrative as Bwin offers odds of 4.00. However, we suggest you play it safe here and bet on the +7.5 point Spread for OKC as they won't go down without a fight.