There are a number of top Premier League bets for today, but perhaps the ultimate one is this Newcastle v Arsenal prediction for November 4, 2023. A great game awaits the fans at St James' Park this Saturday evening. Both clubs were involved in the midweek League Cup action, but the results were completely different. Newcastle trashed Manchester United at Old Trafford with an impressive 0:3 scoreline. Arsenal took a serious beating at London where they lost by 3:1 to West Ham.
After 10 rounds in the Premier League, Arsenal are second in the standings with 24 points while Newcastle have dropped to the sixth spot with 17 points. Tottenham have been the biggest surprise this year as they are currently leading the way with 26 points.
Newcastle – The Story So Far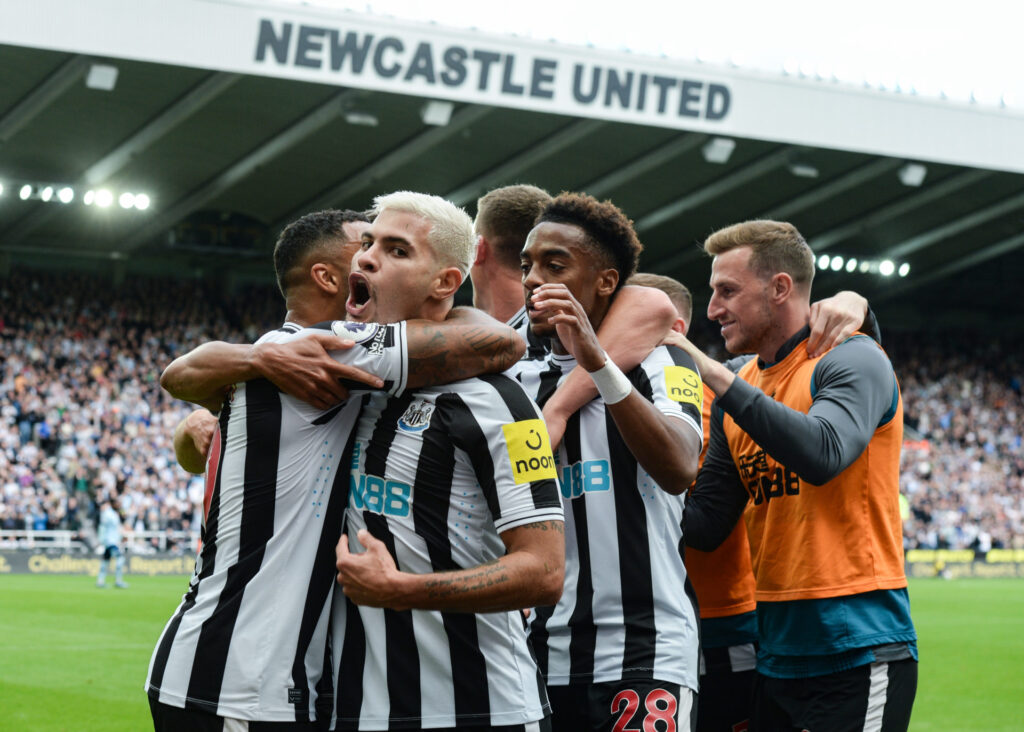 After a poor start to the season when they lost three of their opening four games, Newcastle have started to turn things around and are currently on a six-game unbeaten streak. This year is more difficult for the Magpies, because they now have a target on their back, and they are no longer the surprise as they were last season. Opponents are now aware of their qualities and everyone is super pumped when going up against Newcastle. At the same time, Newcastle now have to juggle between domestic duties and the Champions League where they've earned 4 points in the Group of Death and have a real chance of progressing to the next round.
Sandro Tonalli's gambling story has been the only, but perhaps quite major distraction for the club this season. The Italian was their biggest summer signing, and he started great winning several Man of the Match awards, but everything went crashing down a couple of weeks ago with reports of his illegal gambling activities. He has been punished to miss this entire season and that's obviously a huge dent for the Magpies.
Injury Concerns Mounting For Eddie Howe
Obviously, when it comes to Premier League betting tips and this Newcastle v Arsenal prediction in particular, we have to account for the latest injuries and squad news. The following first team regulars are currently injured – Matt Targett (hamstring), Alexander Isak (groin), Elliot Anderson (back), Jacob Murphy (shoulder), Javi Manquillo, and Harvey Barnes (foot).
Title-chasing Gunners
Finishing second last year has added fuel to the fire for the Gunners. With the addition of Declon Rice, Arsenal are now solid all over the pitch. We all know they can score loads of goals, but they've now toughen up in defense too (not counting the league defeat). They are yet to lose in the Premier League this season with 8 wins and 2 draws thus far.
It has been great to see how Arsenal have progressed under Mikel Arteta. This is the right way to build a team capable of winning titles – slowly, with patience for the manager and the players. Arsenal did not go out on a spending spree like Chelsea and Manchester United. On the contrary, they have a mixture of players they've developed, such as Martinelli, Saka, Smith Rowe, and Nketiah. And they have spent wisely on the transfer market perhaps with the exclusion of Declon Rice. Not that Rice is a bad player, but perhaps not exactly a 100-million caliber player.
The club has allowed both the managers and their young players to grow together, learning from their experience and the ups and downs they've had. It was really painful for them to miss the title last year after being so close, but that's another huge learning experience for them. They are up challenging for the title this season, and I won't be surprised to see them winning the 2023/24 Premier League.
In fact, if you are looking for a long-term betting pick with great value, I'd strongly recommend that you bet on Arsenal to win the title this season. At the moment, bet365 is offering 5.50 on Arsenal to win the title!
Newcastle v Arsenal Prediction
Please
register
to view our paid betting picks.