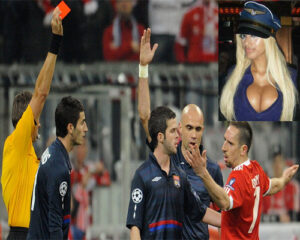 Ribery got involved in a sex scandal with prostitute Zahia Dehar and the story came up just days before the crucial Champions League tie with Lyon. According to the French jurisdiction, he could possible be sentenced to 3 years in prison and a fine of €45,000 for having sex with a teenager as the girl (at the right corner of the image) was only 16 years old at that time. Ribery had to go to the police department and give explanations.
However, no chargers have currently been pressed against the footballer and still it was absolutely evident that he was a boiling pot during the match against Lyon. He lost his nerves and got a red card which we can now obviously say that it was the French player cracking up under the pressure of that same sex scandal that's currently all over the media. He made a terrible tackle against Lissandro Lopez that could have seriously injured the Argentinian and Frank did without any obvious reason as there was no threat for his side in terms of a goal scoring opportunity. It all happened at the center of the pitch right in front of the ref which is something quite stupid, to say at least, for a professional footballer given how high the stakes are in this tie. Of course he will miss the return leg in France putting Bayern Munich in some serious difficulties. Sydney Govou from Lyon is also involved in the affair.
In terms of the upcoming World Cup, France is getting a serious hit on their reputation as they are already in deep trouble at least in the eyes of fans worldwide because of the scandalous manner in which they eliminated Ireland and Henry's now hand that qot equally popular as Maradona's.