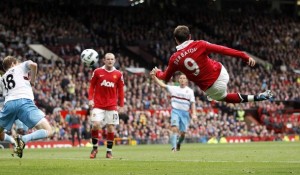 Manchester United's Berbatov looks on top of his game right now and the new 2010/11 season will be the one in which he will finally prove his worth. The most expensive transfer in the history of Man United has its fair share of critics and that was somewhat normal considering his high price tag and his low goal scoring ratio in his first two seasons. However, this year he finally looks settled in Old Trafford and is replicating his impressive performances from Tottenham that got him the transfer in the first place. Why is this transformation finally happening now and will Berba maintain his form during the season are some of the questions in focus here.
Berbatov is a uniquely talented player with a vision of the game that very few have. The way he touches the ball is just exquisite and show world class. Kind of reminds of the most technical player of them all – Zinedine Zidan. Yes, Berba has something in common with Zizu as he also moves seemingly slow on the pitch, has a great touch of the ball and the ability to read the game and provide that decisive through pass. But the problem with the Bulgarian is that he wears the number 9 on his back and is the most expensive transfer in the history of United, which is why most of the average fans believe he is not worth it because he doesn't score in every match.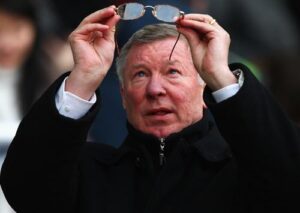 But the truth is that Red fans should just trust Sir Alex Ferguson's judgment. He is without a doubt the best manager in the history of not just Man U, but of the entire sport. He practically transformed the club from zero to a world wide known institutions that's worth billions. He is the one that wanted Berba for a long time before he finally got him in the last day of the transfer window back in 2008. Fergie knew all along what type of player he was bringing in – far from the standard goal poacher, a player with great touch and vision that would bring class to his team and make the difference. And that's exactly what Berba is doing right now, but why now?
The only component missing from his game was more goals. Untied fans just wanted to see a more aggressive type of striker that looks to score rather than pass. Berbatov seems to have understood that over the summer and now looks much more confident and eager to finish himself. He scored a wonderful chip for the Community Shield trophy against Chelsea, then followed it with the opening goal against Newcastle in the first round. In the second round, United were unfortunate to miss a penalty and concede an 88th minute goal by Fulham to level the score 2-2, but Berba still had a great assist to Scholes for the first. Then came his moment of magic in the classic 3-0 win against West Ham at Oltd Trafford, in front of all the United fans perhaps giving them a reason to re-think. Words are of no use to describe this goal so here is the video and you can just skip forward to the last goal of the game:
*March 19th, 2011 Upadte: Berba's goals so far this season, as predicted:
So with 3 goals and 1 assist from 4 matches so far,
Berbatop
finally looks confident in himself and in his capabilities. Yes, it did took him a while to settle in but that's normal. He had to carry the burden of the super expectations for being such a big money investment. Then he also had to get used to playing for the largest club in the football world and in front of 80,000 spoiled fans on any given Sunday. It's not an easy task for anyone and with all the big name players United had in attack back in 2008, things were made even more difficult. Cristiano Ronaldo and Tevez were part of that squad and with Rooney, the newcomer Berbatov was certainly not the main man. The entire team wasn't passing him the ball that much and weren't creating enough opportunities for him to score, while Ronaldo was chasing a record breaking 42 number of goals and all the attacks were centered around him.
Now in 2010, with Ronaldo out of the picture and Tevez playing for City, Berba is finally becoming the target man in United's attack and the results are showing. Of course, you would say that Cristiano and Carlos were already gone in 2009/10 but that was a though season for the Red Devils and everyone was focused on Rooney and getting him in top form and confidence for the World Cup, where we all know what happened. But still, Berbatov should have done a bit better back then but the fact that Sir Alex retained his trust in him means a lot and now the striker is starting to pay it all back.
Bottom line is that we are about to see the real Berbatov this year. He will turn into a crucial figure for United and will shut down all his critics. He will score at least 20 goals this season and with all the assists and his purely genius touches, passes, finishes and acrobatics, fans will start realizing how right Sir Alex was in the first place for bringing him in.
Berbatov actually gave a very interesting interview last week for reporter Gemma Thompson published at the official club website. Here is a part of it:
Did you take time over the summer to analyse the last campaign?
Yes, I thought about it during my time back home in Bulgaria. We all wanted to win the title and we gave our best to do that, but things ended on a disappointing note. When one season finishes though, it's not long until another starts and everyone feels ready to go again.
You retired from international football in May – what were your reasons and how will it benefit your club career?
Everything comes to an end at some point and I said to myself a long time ago that when I got nearer to 30 I would step down and let the younger guys take over. You need to know when to stop and that was the right moment for me. Now I can concentrate fully on my football with United, have a bit more rest during the season and enjoy watching my country.

The manager has said this could be your season – do you agree?
I want this to be our season. The most important thing is for the team to be successful and we're all looking forward to the challenge. We want to win every competition we're in and it's important that we entertain the fans as well – for me that's what football is all about.
Players always talk about learning every season at United – what have you learned during your two campaigns with the Reds?
When you come to play with the best you know you have to work hard to be on their level. And when you make that step you start to grow up, on and off the pitch. When you join the club you realise what a great place it is to learn. It's like a school for the young players to learn how to become the best. It's a unique club and a real family club. Whenever you hear anyone say 'Manchester United' you immediately think of the biggest team in the world and when you have a chance to come here and see what it's like on the inside you feel very lucky to be part of it.
And what are your personal aims for the season?
I just want to play well, enjoy myself and score and make goals. Football is like art and my aim is to create beautiful things on the pitch to help the team be successful. Our aim is to win the title back and I know we have the players to do it.