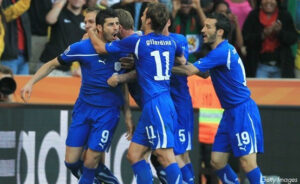 To form our Slovakia vs Italy prediction, we have taken into account all the important factors so that you can make a lot of money on this bet. This is Group F and it's Paraguay leading the way with 4 points while Italy is yet to win a game and has 2 points so far. Slovakia on the other hand are practically out of the competition having collected just 1 point in a 1-1 draw with surprise pack New Zealand.
BetOnWins is giving you a free Slovakia vs Italy prediction to show just how cool we are and how we want to help you guys make money. The Italians will win this game and qualify for the next round, and the odds for them are 1,53 which is very good for such a high probability pick! See, when it comes to sports betting, it's all about climbing up the pyramid and getting in a row of accurate soccer picks. This 1,53 odd on Italy to win might not seem like a big deal but it's real money we are talking about here. The question is how much you are willing to risk? It takes balls to make money from sports betting not high odds!
From a purely game-wise perspective, betting on Italy to win is absolutely logical, because they have the better player compared to Slovakia in practically every position of the pitch, plus they got the necessary experience and mentality to win such tense affairs.
Don't forget Italy are the current title holders. Yes, they have been far from impressive, but that's just how they go into such World Cups. They tend to start off slowly but then they somehow sneak through, either because of last minute goals, penalties, referees,, etc.
Slovakia vs Italy Prediction: One way or another, Italy will get out of the Groups but if they finish second, which is quite likely, they will have to play Brazil in the next round! That's when the Italian players will have to say Arrivederci to South Africa and start planning their summer vacation.

Bet On Italy to Win @ 1,53!