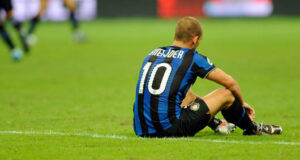 Inter's most creative midfielder Wesley Sneijder is in doubt ahead of their clash with Barcelona at Camp Nou. The dutch master looks certain to miss out on his team's most important game of the season after suffering a hamstring strain during the Saturday game against Atalanta.
"As planned, Wesley Sneijder underwent a series of medical tests today following the injury sustained at the end of the first half of Inter-Atalanta. The Dutch midfielder has strained the rectus femoris muscle in his left leg," reads a statement at Inter FC's official website.
Sneijder already missed the group stages game at Camp Nou and now he is set to miss out once again. If he does, then Inter are in for some serious problems because Wesley is the brain behind all their moves with his excpetional passes and vision of the game.
Of course, it could all be just mind-games powered by Jose Mourinho who certainly knows how to trick his opponents in every possible way. Sneijder will be given until the last minute to prove his fitness. Whether he makes it or not, we will know for sure on Wednesday!