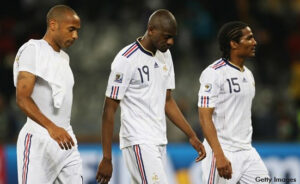 The 2010 World Cup is entering it's most interesting stages and from this day one, we will see teams get eliminating one after the other. The question regarding the South Africa vs France Prediction is – will the hosts manage to sneak in and finish second in Group A? It's sounds like a line from Mission Impossible but we have seen bigger miracles and upsets in football that's for sure.
The French squad exploded over the last few days with internal fights and scandals and it all seems to be going extremely wrong for Le Blues, just as we predicted in our analysis on their squad and chances prior to the World Cup. In yesterday's open training session, Patrice  Evra jumped on one of the conditional coaches on the sides. The training session was stopped in front all of the fans while the players gathered for an organized protest against the FFF 's (French Football Federation) decision to throw out Anelka from the squad.
Anelka, and we totally understand him by the way, went on to curse coach Domenech at half time against Mexico. Now he is out the team and after this round, France will be out of the tournament as well. That's actually something good for the game considering how they qualified. All the people in Ireland are probably at least partially compensated just by looking at the tragical thins happening in the French squad.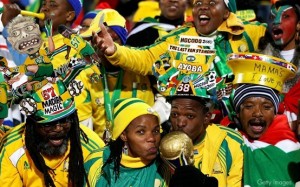 The best South Africa vs France Prediction is for a home win which will give the host nation hope of qualifying for the next round in case there is a winner in the other game of Group A between Mexico and Uruguay. No host nation has ever been eliminated in the Group stages in the whole history of the World Cup. There are a lot of purely political and economical reasons behind this intriguing statistic and should the miracle happen and South Africa manages to qualify at the expense of Mexico, the entire country will go football-crazy which is exactly what FIFA wants.
South Africa vs France Prediction: The entire world is now laughing at France with all the scandals riping their squad from the inside. Anelka was kicked out of the team, and even the captain Patrice Evra got himself into a fight with one of the physical trainers. France is by no means a team, in fact they are the exact opposite – a group of losers assembled together by an absolute idiot.
After winning the fixed World cup in 1998, France didn't score a single goal in the next one in South korea and Japan in 2002. Now history is repeating itself, sort of, as France made the World Cup Final in Germany 2006 but is now about to go out without even scoring a single goal!