FIFA have sold this World Cup for billions, and we need to look at it for what it really is and try to make the most of out it. In both fun and profits. Japan's comeback win against Spain and Germany's group stage exit are a true testament to how much the world has changed in recent years. We are getting unified in our lifestyles and in just about every facet of life, and that has a bizarre effect on football itself. See, much like real life, the football game has too shown the signs of commercialization and globalization, which of course has always been the goal of FIFA (and the people who run it). "To promote the game to every corner of the world…" That's just another way of saying, we want to get more money from just about everyone out there.
FIFA ARE A GREEDY MOB. HOSTING THE WORLD CUP IN QATAR IS THE ONLY PROOF YOU NEED
Having this World Cup hosted in Qatar is just so wrong on so many levels. And quite understandably, FIFA are now being criticized heavily over that decision, but it's all too little too late. No disrespect to Qatar people here, don't get me wrong. They seem to be good, friendly people. Yes, they have their own rules and we as "westerners" might not get, such as the alcohol ban, for example. I mean, football and bear tend to go hand in hand after all. I'm talking about the fact that Qatar is just not a great choice for a World Cup host. Firstly, it's really expensive and difficult for fans to travel there and watch the games in person. You've probably seen the footage of the refuge-like base camps where fans can "sleep" in containers at prices of about $1000 USD per night. And then you have a World Cup at just six stadiums all separated by no more than 60 km. At the same time, the fans are separated in cut-away camps way outside Doha. And let's also not forget the timing – in the middle of the regular football season disrupting the entire calendar, and also in the middle of winter where fans are usually tied to work. As you know, World Cups are traditionally held in the summer (in the Northern Hemisphere at least).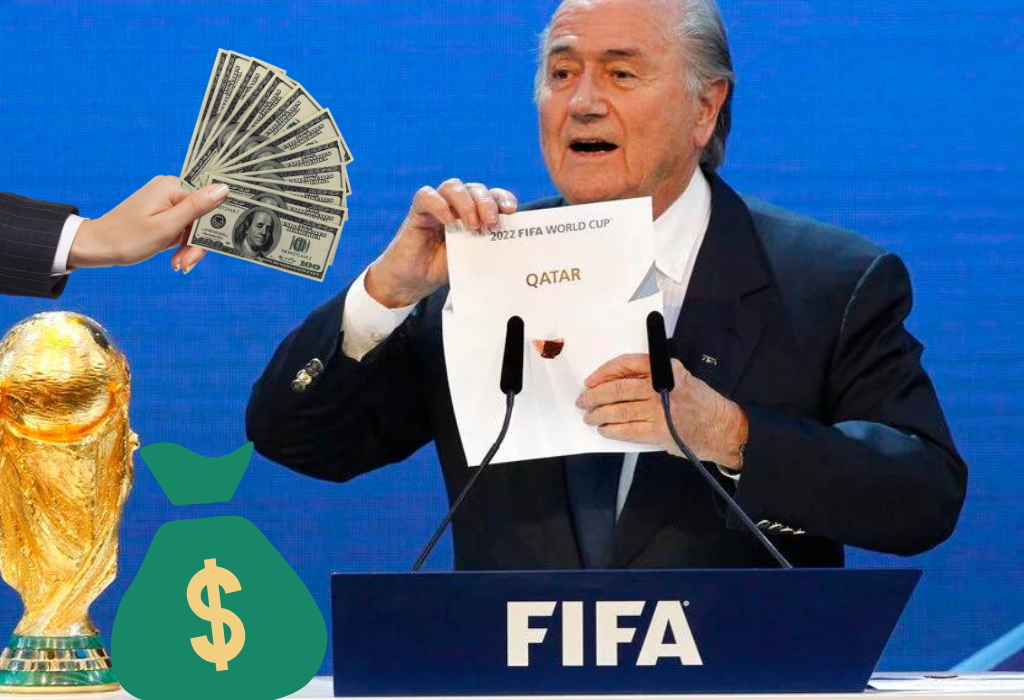 "FOOTBALL HAS GROWN SO MUCH EVERYWHERE, ANYONE CAN BEAT ANYONE"
Highly motivated by their greed, the rulers at FIFA have always had the goal to make football popular everywhere. But don't be fooled. They are not doing it for the love of the game. They are doing it for the money. And what's one of the most effective means of accomplishing such task? By giving even smaller nations the chance to shine on the big stage and beating some of the so-called giants in the game. The theme song right now is that anyone can beat anyone as they game has just grown so much in all parts of the world.
That's why we've started to see some really shocking results right now as Japan defeated Spain (and Germany too) with a super controversial second goal where the ball had gone clearly out of play! Yet, they didn't even bother to show us more detailed replays and different angles despite having ten different cameras for VAR. Notice how they showed just a couple of quick replays, and never went back to that crucial situation. Believe me, that's no coincidence. Here is a video showing quite clearly that the ball had gone out with its entire volume and was evident even from the quick replays we had as viewers. Wonder about those at the VAR control room…
MAKE FOOTBALL BIG IN JAPAN AGAIN
Obviously, FIFA have decided to make football BIG IN JAPAN again, and it's true that the Japanese fans are lovely, they are a great culture and just great people. But it's also a fact that football is now more of a political game, and it would appear that currently, it's in FIFA best interest to produce an unforgettable World Cup journey for fans in Japan. The Samurai will take on Croatia in the next round and I would not be surprise if they eliminate the runners up from the previous World Cup in Russia. The odds for a Japan win against Croatia in Regular Time are 4.00!
It's been known for years that FIFA has been run as a mob structure. Just look at who's running FIFA right now – Giovanni Vincenzo Infantino, an Italian football administrator, and they have Pierluiggi Collina, another Italian as chief of the FIFA referring commission. FIFA has a long history of bribes, corruption, money laundering, tax evasion, scandalous referring decisions, and now even human rights violations. There is an entire Neflix series FIFA Uncovered that details this long history of corruption scandals. I strongly recommend that you watch it.
One of my predictions for this World Cup in Qatar 2022 is that we are about to see more and more crazy results, so brace yourselfs out there guys. There will be some huge betting opportunities in the days ahead. Believe me, we will witness some major shocks that few are expecting. The main favorites for the title in terms of an Outright bet on the World Cup right now (who will win it) are Brazil and Argentina.

However, I am starting to think that we could be in for a major surprise, and the winner could be a country outside of these top five favorites. And if you look closely at the odds (in decimal), all the other teams from Portugal and below offer tremendous BETTING VALUE with odds going from 12.00 to 2001.00 (Yes, that's on Cameroon, which I don't believe to have an actual shot). So if the winner is outside of the traditional and popular choices, we could be in for a real cashout.
ARMED WITH VAR, FIFA CAN DO ANYTHING
Over the years, FIFA have proven just how ruthless they can be in order to accomplish their "goals". The very fact that we have a World Cup held in Qatar is a testament to that. And then you factor in the VAR technology. It does seem like it's being used in accordance to different needs. Even with VAR in place, there still so many strange referring decisions being made. There are cases where VAR is not invoked despite having an obvious error, so its presence is by no means a guarantee that football is all fair and square. You can see this "semi automated offside technology" just generates an image, which we HAVE to trust, but it's just like a video game clip that can be generated in whichever shape or position they need. Why didn't we get that technology for Japan's second goal against Spain?
My point is that FIFA can use VAR (and they do) to influence the outcome of games even more so than they ever had the chance. Again, a change introduced for the "good of football" is being used to provide FIFA with even greater control on the outcome of matches. Armed with VAR and the refs, believe me, FIFA can make just about any nation a World Cup winner. Even Japan. If you are looking for a more reasonable pick, our tip is on England to win the World Cup.
World Cup 2022 Qatar Tournament Tree