It's December 13, 2022 and our top NBA bet for today comes in the form of this Pelicans at Jazz prediction. This game will bring us a matchup between two young and quite fun-to-watch teams that have exceeded expectations so far this season. Yes, the Pelicans were expected to do good, but probably not that good as they are currently first in the stacked Western Conference. The Pels have a record of 18-8 and are now on a run of seven straight wins. As per the Utah Jazz, well, everyone expected them to be in deep tank mode this year, and they have been playing great basketball, had the best record in the NBA after the first 7-10 games, and are now still looking good with a positive record of 15-14 and the 10th spot in the West. Who will win this game? Let's find out with our Pelicans at Jazz NBA prediction.
The Pelicans And Zion Flying High
As mentioned, the Pelicans are on a 7-game unbeaten run, and they have played great basketball during that stretch. You can safely say they are the hottest team in the league right now. Everyone is playing with confidence and in turn everything is clicking for them. Alvarado, aka Grand Theft Alvarado, just had his personal scoring record posting 30 points off the bench against Denver, and then followed it up with another 28-point game. This team is deep. They are stacked in every position, and the Pelicans fans have to be thankful for that to the vice president of basketball operations David Griffin. Griffin is not new to success and assembling good rosters as he was on board at the Cavs when they won their first and only title with LeBron back in 2016.
And what's even scarier about this Pelicans team is that they have been playing all that great basketball without Brandon Ingram, who was carrying the team while Zion was out for most of last year. So Ingram is in fact their second-best player, if not the best, you could have a strong argument there. Anyway, once he gets back and if they manage to stay all healthy, this Pelicans team is dangerous, and they are definitely among the best teams in the entire NBA.
Can The Jazz Keep On Rolling?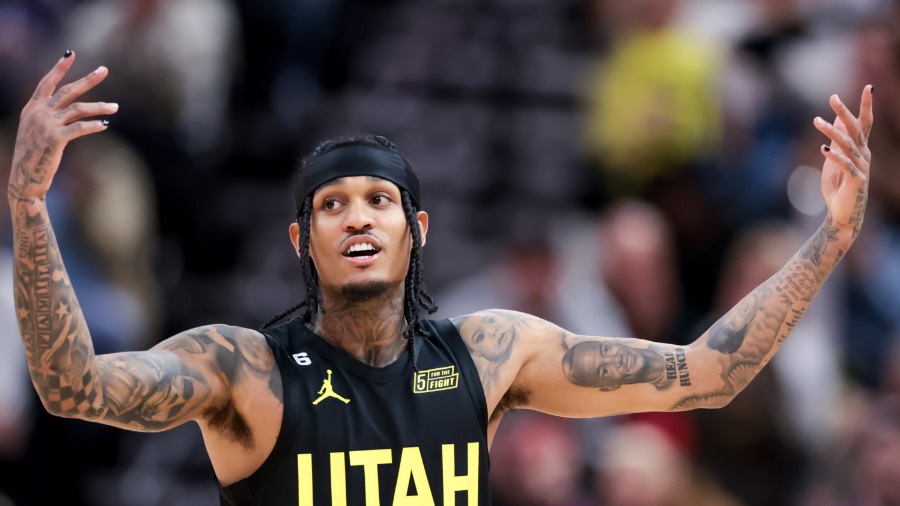 To analyze the home team in this NBA tip and Pelicans at Jazz prediction, the big question is can the Jazz keep on rolling? During the summer, the Jazz management decided to completely blew up the team starting with their head coach Quinn Snyder and their two best players – Donovan Mitchell Rudy Gobert, both traded away. Obviously, they thought this team and the way it was constructed simply wasn't going to win the NBA championship and that's the ultimate goal. Despite being quite good in the regular season for several years, they just weren't good enough in the Playoffs when it counted the most. Those Dallas Mavs really got them shook last year when they eliminated them in the second round, and that's probably where the Jazz management thought, "OK, that's it! We are starting all over."
So Danny Ainge and David Griffin, who are two great basketball minds, put together this young team comprised of Lauri Markanen, Jordan Clarkson, Collin Sexton, Talen Horton-Tucker, rookie
Jarred Vanderbilt. And then you got some veteran presence in Mike Conley, Kelly Olynyk, Rudy Gay and Malik Beasly, so you have the perfect recipe for a good team and that's no coincidence there. You can tell that these guys are having fun out there, and that's really important.
Latest Team News And Recent Meetings
Examining the latest team news and recent meetings is always one of the cornerstones to making an accurate NBA prediction.
The last game between the two teams was decided by just one point in Extra Time. The game ended 122-121 in favor of the Jazz who were the hottest team in the NBA at that early point the season. Well, it's a bit different this time around as the Pels are now in their shoes being first in the West.
What's interesting about this Pels vs Jazz prediction is that this is the first of two straight games between these two teams as they will go at it again on Thursday. So it's part of the new home-and-home type of games in the NBA, in order to save up on trips for teams and "gas money".
Personnel-wise, the Pelicans are only missing Brandon Ingram. All their other players should be good to go. As per the Jazz, there are some question marks surrounding their three best players – Markanen, Clarkson and Sexton, who all missed the last game. Yet, those three trained fully with the team on Monday, and I expect them to all play despite being listed as "probable".
Pelicans at Jazz Prediction
Register below to get our top NBA betting pick for this game and the days ahead. We also have some winners on the World Cup, so make sure to check our Argentina v Croatia prediction for the Semi Final tonight.
Jazz To Win @ 2.30 On Money Line ✅
*Final Score: Jazz Win 121:100