Sports betting is all about getting an adrenalin rush and making money, but mainly about the financial profit rather than the emotional joy of accurately predicting the outcome. Whoever is telling you different is simply lying or is not in tune with himself. And if you are serious about making big money through online betting then you would know that whenever you place a bet, you are simply covering one outcome of the given Sport event. But what happens if the game doesn't turn out the way you anticipated?
Anyone who has ever placed a bet on or offline has gone through the bad emotions of losing and what's even worse is that sometimes it happens at the dying moments of the game. Imagine how AC Milans felt at the Champions League final in Istanbul back in 2005. AC Milan were leading 3-0 at half time and everyone thought that the game was over. Well, we all know that didn't turn out to be the case. Those who had a bet on AC Milan to win this game or to simply win the trophy were shouting from joy at HT only to have their hearts broken by the end of the game as Liverpool pulled off one of the biggest upsets in the history of club football by drawing the game 3-3 and eventually went on to claim the trophy in penalties.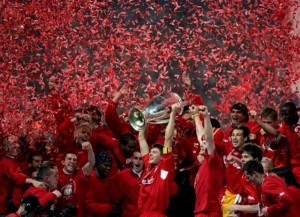 This real-life example holds the essence of the power of backing up your bets LIVE. Imagine that you had a bet going on AC Milan to win this game. If you are a reasonable person who is serious about sports betting, what you would to at half time is to place a bet on Draw in regular time, backing up your initial bet on ACM just for the sake of being calm in the second half. The odds for Liverpool drawing back then after being 3-0 down at HT were over the roof – some bookies were offering odds in the range of 50-100! So if you had placed 10$ on draw at HT, you would end up winning about $1,000 should Liverpool manage to draw, if not you still win on your initial ACM bet. So you get a win-win situation in both cases.
Implementing strategies like that convert online betting from gambling into serious business opportunities because you have all the scenarios covered and you don't rely on things like chance, luck, destiny, cross-bars, penalties, red cards and so on.
The moral of the story is that anytime you place a bet online or offline and hopefully things go your way, make sure you back it up  by laying some money against your initial prediction.