The Champions League is back with a bang as Inter takes on Barcelona at the San Siro this Tuesday. The Nerazzuri suffered their fourth defeat in just eight rounds in the Italian Seria A thus far and head coach Simone Inzaghi is on the ropes fighting to keep his job. Meanwhile, Barca are once again flying high after their crazy transfer summer. A sold out stadium and millions of fans worldwide will watch two European giants collide in a decisive battle that will determine who goes through to the next round along with Bayern (which are just about certain to finish first).
Inter In Free Fall Mode, Inzaghi Close To The Exit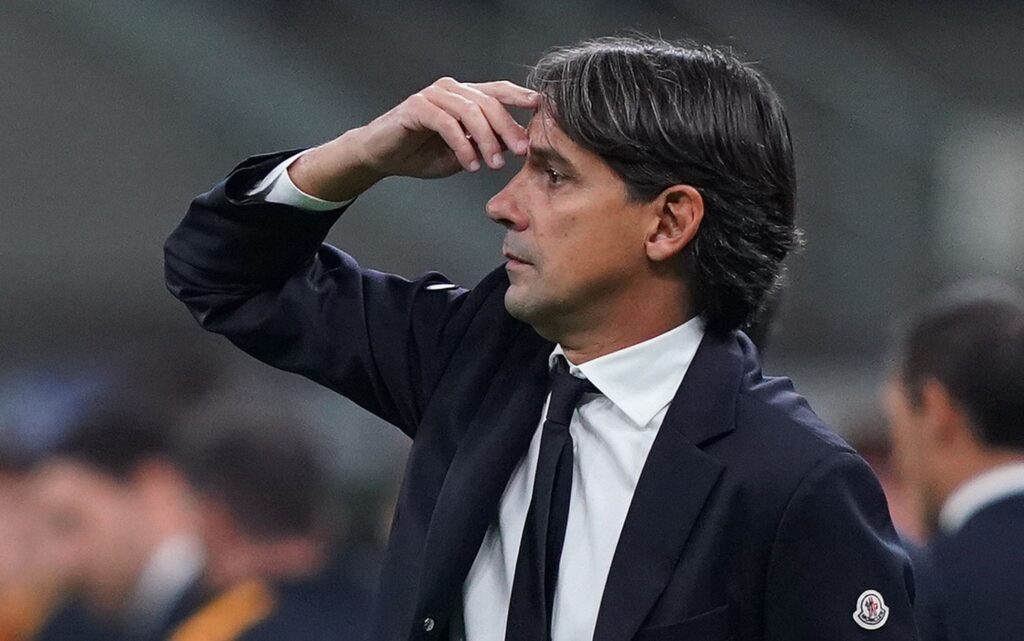 Inter have been struggling mightily at the start of this season. In the Seria A, they have already lost four games, which is one more than they lost during their entire championship season under Conte in 2020/21 and the exact number of defeats they had last season in total (4 L). When you think about it, it's pretty much the same team, but the results have been shockingly different. It just goes out to show how crucial coaches are in football.
No offense to Inzaghi, and some might say that he did a good job last year. The club won the Coppa Italia and were narrowly beaten in the title race by AC Milan by just two points. However, there is always the fact that Inzaghi inherited a strong team, kept the same formation, there was that championship spirit, and they just rolled with the inertia they had.
The reality right now is that Inter have lost all that steam. The agony and pain of finishing second to their city rivals in such a dramatic fashion could be playing a role too. Yet, they managed to bring back Lukaku, and kept Skrinar who was heavily sought after by Chelsea and PSG, and will go at some point. They still have a pretty deep squad, and that's why they were considered heavy favorites for the Scudetto this year. What should have been a redeem season for them is quickly turning into an absolute nightmare.
L'allenamento dei nerazzurri in vista di #InterBacellona 💪⚫🔵#ForzaInter pic.twitter.com/get9VHo5Mb

— Inter (@Inter) October 2, 2022
It's never easy at Inter. Since Mourinho left in 2010, they have changed over ten different coaches. Just when they were starting to have stability and success, Conte jumped ship when he understood that the clubs is going through major financial difficulties and the transfer budget is close to zero. Marotta was smart to turn to Inzaghi as he favors Conte's 3-5-2 formation, so he was able to pick from where the former Juve man left off. After all, the entire squad has been modelled around this formation, with a lot of wing players, and two strong forwards in attack.
However, it now seems that Inzaghi will get sacked sooner rather than later, and who knows what happens next. With the squad they have, it will be difficult to bring another manager with a totally different tactical formation. For example, Inter can't play 4-3-3, which is so popular among the best clubs in the world right now, including Barca, because they need to play Lautauro and Lukaku together as they are their two best players. Neither one of them can play on the wing.
A heavy defeat against Barcelona in this Champions League match on Tuesday, could cause mister Zhang to swing the axe on Inzaghi, and in turn Inter could spiral down into their typical instability and madness.
That's why this game against Barcelona is of huge importance for Inter. If they lose this game, it will be their second defeat in two home games in this Champions League group. With away matches at Bayern and Barcelona up next, they will have nothing left to play for aside from the third place. This will further destabilize the club and Inzaghi will have one foot in front of the exit door. Lukaku's injury has turned out more severe that initially expected. He is not progressing as fast the team doctors thought he would. The Belgian will miss this game against Barca, and that will only make matters even more difficult for Inter.
Barca Are Turning The Corner
Recharging batteries 🔋 pic.twitter.com/GYYlLudjHF

— FC Barcelona (@FCBarcelona) October 3, 2022
To make matters worse, Inter will be up against a Barcelona club that looks to be turning the corner and getting back to its best. Lewandowski scored yet another goal this weekend. Dembele has finally found his place and looks like the man Barca were hoping to get when they paid nearly $100 million him for him to Borussia. Fati is also improving after his long injury spell. Their midfield is clicking too. All in all, Barca are the better team here and in much better form and momentum.
That's why the bookies are expecting a Barcelona win as they are the odds on favorites at 1.83. Inter are considered as heavy underdogs, despite being at home, and a win for them offers the odds of about 4.20 depending on your bookie.
Then again, football is an illogical game at times. It would not be wise to write off the Nerazzuri completely, regardless of their poor form.
Inter v Barcelona Prediction
We have prepared a betting pick for this game that's as certain as it could possibly be. Register to get access to our paid Inter v Barca prediction for this Champions League derby. Registered users can see our actual betting pick for this game below.
Inter To Win @ 4.50 ✅
*Final Score 1:0