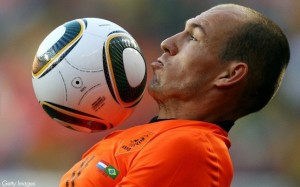 Our Uruguay v Holland football prediction and betting tips should help you cash in some money this Tuesday when the two nations will clash at the Green Point Stadium in Cape Town. Most football fans favor the Dutch to win this encounter and reach the 2010 World Cup Final. The online bookies are on the same page as the odds for the Orange to qualify are 1.30, while the South Americans are rated at 3,50!
Betonwins' football prediction for this game is that Holland will have it much harder than people expect. It will be a tight contest that can potentially go into Extra Time. It's certainly a good betting tip to go for Holland to win in Extra Time as a Method of Victory, as bookies offer 11,00 for that!
And if the Netherlands win during the regular 90 minutes, it won't be with a big difference. That's because the Urus are a very good side that's not among the top 4 in the World Cup by accident. The downside for them though is that they will be missing Suarez and Loderio. That certainly makes us favor the Europeans in this Uruguay v Holland Football Prediction. But the betting tip here is to cover a Dutch win with just one goal difference (like 1-0, 2-1). This type of football prediction is called "Winning Margin" and online bookies provided it at 3,50 for this game.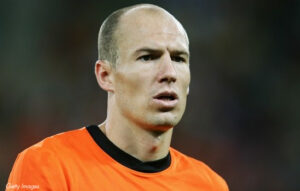 The best Uruguay v Holland prediction is to bet on Robben to Score At Any Time. The pacy winger has been among the top 3 footballers in the world for the past season and has kept on his top form in South Africa, as oppose to other popular names like Kaka, Messi and Rooney. Robben has so far been able to reproduce the type of form that send Bayern Munich to the 2010 Champions League Final, even though he missed the first two group games due to ankle injury.
You can bet on Robben to Score At Any Time at the odds of 2,87 which is the best football prediction you can get right now. It's the type of betting tip that you can combine with another high accuracy pick to form an even higher odd. You can check our Germany vs Spain predictions for this info.
Basically any time Arjen Robben touches the ball it looks like a goal is about to be scored. Defenders simply can't cope with his speed. He is so fast with the ball at his feet that all they can do is throw harsh tackles at him and get booked or watch him pass by. It's almost impossible to stop a player like that. Robben is quit similar in his playing style to Messi, although people don't seem to appreciate him that much. Robben to Score the 1st Goal against Uruguay is rated at 6,50!