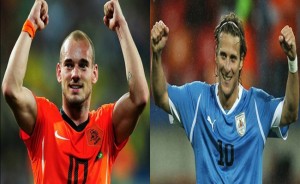 This Uruguay vs Holland prediction is not an easy one to give, considering this is a World Cup Semifinal. Only 4 nations are left in the competition right now and three of them are European. Initially, a lot of football experts were saying that it's going to be a Latino fiesta in South Africa, but the reality turn out to be that the good old Euro brand of football is still in charge.
It's interesting that a lot of people are favoring the Europeans in their Uruguay vs Holland prediction, although the Urus have won the World Cup no less than two times, while the Dutch have lost their two finals. Uruguay is the only South American side left and so far they have been both lucky and impressive. They have the deadliest attacking pair in the likes of Forlan and Suarez but the latter will miss this game, because of the hand ball play in the 120th minute against Ghana. Suarez will be a big miss for the two time World Cup winners.
This means the goal scoring burden will fall on Forlan and Cavani. Cavani is a top class player and he will finally get a chance to shine with Suarez missing. He was scoring quite often in the Seria A last season with his Palermo so fans back home will be looking for him to repeat some of those performances. One of the best Uruguay vs Holland predictions is to bet on Forlan to Score At Any Time, because with his partner in crime missing through suspension, it will be up to the former Man United player to deliver once again for his country. The odds for Forlan to score a goal in this semifinal are 3,40! The Dutch will be missing their starting right back Van Der Viile and defensive midfielder De Jong, so we can already see their problems in defense. This is a major factor that you have to account for if you want to make an accurate Netherlands vs Uruguay prediction.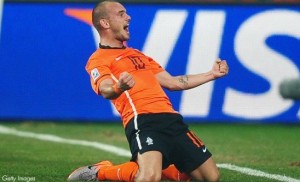 Wesley Sneijder is another top pick if you are looking for a high accuracy Uruguay vs Holland prediction. Wesley has already scored 4 goals in this World Cup, after FIFA properly reviewed the match against Brazil and credited the Inter midfielder with the 2nd goal in the match. Wesley will be looking to increase that number even further so it's a wise move to back him at the odds of exactly 3,00 meaning you can triple your money with this bet! He is taking all the set pieces for Holland and he is known for being dangerous from free kicks regardless of where the ball is placed. It's no coincidence why fans call him Wesley Sniper!
Uruguay vs Holland Prediction: Holland will be missing their starting right back (Van Der Wiel) and defensive midfielder (De Jong), while the Uruguayans will be without their top attacker Suarez and midfielder Lodeiro.
However, the absentees are certainly heavier for the Urus, because these two are main players for them, while the Orange have quality replacements for their respective misses in the likes of Van Der Vaart who missed last game and Khalid Boulharouz. Our prediction is for Holland to qualify for the Final, although the match could well end in a draw. That's why we suggest you go for the goalscorer picks on Forlan, Sneijder and Robben.