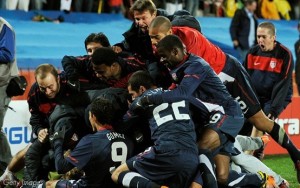 In the other match of Group C, USA take on Algeria knowing that a win will ensure their participation in the last 16. The best USA vs Algeria prediction is to bet on the Americans to win as they have been really impressive ever since the Confederations Cup in 2009. We all know football has been going through a major development in the USA and the progress is now evident for everybody, which is great for the game and good for the nation.
During the Confederations Cup in 2009, USA eliminated Spain the semi-final and took a 2-0 lead against Brazil in the Final only to end up losing it 2-3 in the second half. But despite this setback, the Yankees have kept on improving their performance and are now on par with some of the biggest household names in football. Something that you couldn't say just 5 years ago. And yet the States are now out there competing with the best and are doing a great job at it.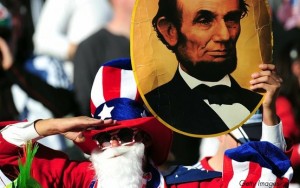 And the positive results for USA in recent years have been far from coincidence. They have a lot of young, talented players who are competing for some of Europe's biggest clubs and this experience they are getting is clearly helping them improve not just as individuals but also as  a mindset going into the World Cup as a whole team.
Donovan played a great second half of the season for English side Everton and managed to score a few goals. Clint Demspey is a main player for Fulham FC which reached the 2010 Europa League Final. On goal is Tim Howard who is one of the best goalies in the entire English Premier League. Oguchi Onyewu was signed by AC Milan after impressing at the Confederations Cup. Carlos Bocanegra, Jonathan Spector, Beasly, Edu and Altidore are the other major players in the USA squad.
Considering how good the Americans are, it's no wonder why we favor them in our USA vs Algeria prediction. The Algerian team will be glad to go home after drawing with the mighty England. They have no World Cup history whatsoever while the States are bound to reach the last 16 and keep on establishing themselves as one of the rising forces in football.
USA vs Algeria Prediction: USA has two draws from in Group C so far, 1-1 with England and 2-2 with Slovenia. Now it's finally time for them to win and you can double your money with this pick.