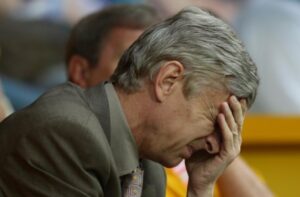 Arsenal have a lot of fans worldwide and it's mostly down to the fact they play some attractive football. But in the modern game, looking pretty doesn't equal winning, in fact in most cases it's the exact opposite. It seems to Arsene Wenger it's better to look cool and lose rather than look ugly and win. There are a number of factors behind Arsenal's trophy-less last 5 years and by looking at how things are going in London, it doesn't look like things will change for the better any time soon.
Which are the factors "contributing" to Arsenal's failures on all fronts in recent years?
1. Being Cheap on the Transfer Market

In the last 3-4 seasons or so, Arsenal have not been exactly huge on the transfer market. For a team that wants to compete with power houses like Manchester United, Man City and Chelsea, it seems a bit absurd that Arsene Wenger is expecting to Win the EPL relying solely on developing players. Of course no one can deny that mister Wenger has a great eye for spotting young talents but what about big game players, stars and big name signings? In order for Arsenal to be on par with the best in England and Europe they would need some big name signings this summer. If they fail to bring them, they will be empty handed in 2011 as well. The last time they spend serious cash on the transfer market was when they bought Andrey Arshavin who is nearing his 30s and isn't exactly world-class.
2. Too Dependent on Fabregas
Fabregas is without a doubt one of the best midfielders in the modern game and he can do just about everything with the ball in his feet – dribble past opponents, provide the crucial pass or score. But you can't develop your entire game plan based on just a single player who is seriously speculated to be leaving this summer or the next. Barca is keen on bringing back the player they developed at their youth system and eventually, whether Arsenal like it or not, FABregas will return to Cam Nou. Thus, Wenger should start planning for the future already.

3. Soft Players
We don't mean to say that Arsenal players are weak or anything like that. After seeing how Eduardo was injured and Ramsey, such claims would be an insult to football. By "soft players" we mean guys who don't have the mentality of proven battlers like Steven Gerrard, Frankie Lampard, Drogba, Rooney, Giggs, Scholes and so on. You get the picture. Arsenal players are just too young to be that mentally tough as the established players we just mentioned.
4. Too Many Foreigners
How many times have Arsenal entered the field without a single Englishman in their lineup? Well, I have lost count. In fact, Arsenal looks more like a side from the French League 1 rather than the English Premier League. Chelsea and Man Utd, the most successful PL sides in the last several years, have a backbone consisting of English players and there is no need to mention them one by one. With that many foreigners on their team, I wonder what's the language they speak in the locker room? Maybe some type of a weird mixture between English, French and Spanish. Anyway, these things do matter a lot.

5. A Selfish Goal Poacher is Missing
Arsenal is a team that produces a lot of goal scoring opportunities during the course of a 90 minute game, due to all their creative midfielders, lots of short passing and basically all the fantasy that can't be denied about their game. But what's absolutely evident is that they are missing a selfish goal-scorer up front like Ian Wright back in the days. They need a goal-scoring machine , a goal poacher who looks to shot rather than pass. They got enough passers on their team anyway. The type of player they need is someone like Diego Milito, Samuel Eto'o or Kun Aguero. Of course, we all know these three will never go to Arsenal, but we are giving them as an example of the type of player they need.

6. Goalkeeper Issues
My, ohh my! Arsenal suck so bad between the sticks. Just remember how they lost to Wigan in the last 20 minutes of the game after leading 0-2, only to go down 3-2 after pure goal-keeper errors by Fabianski. Manuel Alumnia is just as bad as Fabianski. There is no need to go back in time and give examples of the mistakes he has made over the past few seasons. And who did Arsenal had before Alumnia? A goalkeeper that sucked just as bad as him – Yens Lehman. When is Arsene Wenger going to learn that winning football starts from the goal-line. Having a great goalkeeper is 50% of a successful team. Take Manchester United for example – they've always had a great player between the posts. Chech at Chelsea is also a great goalkeeper, so is Reyna at Liverpool.
Arsenal are in desperate need of a good goalkeeper and perhaps Wenger with all the French connections that he has, should seriously consider buying Lyon's Hugo Lloris.
7. Bendtner Sucks!
It's hard to understand exactly why Wenger has so much trust in Bendtner. I mean the guys is like Pinocio on strings! He has zero footballing talent, just a wooden guy trying to run up and down the field and missing chances like crazy. He will never develop into a great striker because he simply doesn't have that potential in him. He should try another sport, maybe basketball but definitely not football and definitely not as a starter striker.