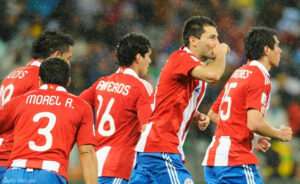 Slovakia play Paraguay in a crucial Group F encounter that should decide who goes through along Italy. After seeing how well the South Americans played in their World Cup 2010 opener against the current Champions, it should come as little surprise to learn that our Slovakia vs Paraguay prediction is for an away win here.
Both teams have a point in this Group F after the first round. But besides that single point, another similarity is their goal difference 1:1. Paraguay can take a lot of pride from their draw against the title holders and in fact they could feel a bit unfortunate after letting their 1-0 half time lead slip in the second half. But given that the fourth team in the group is New Zealand, the Guarani should be able to go qualify for the knock-out stages.
On our Slovakia vs Paraguay prediction, we take into account the squads and all the players that will be involved. The South Americans clearly have the upper hand in terms of quality in their side with stars like Santa Cruz, Oscar Cardozo (leading scorer for Portuguese Champions Benfica this season), Lucas Barrios, Edgar Benitez and Jonathan Santana (Wolfsburg). The Paraguayans do not have a lot of players competing in Europe, but that doesn't mean they are not good. In fact, it's an advantage for them to have the majority of their players earning their salaries in South America, as that has allowed them to come much better rested into the World Cup.
Slovakia on the other hand got in deep, deep trouble after letting New Zealand level the score in the 90th minute of their first game. Everything was going good for the Slovaks until that last 90th minute in which the kiwis exploded grabbing their first ever World Cup point. This unfortunate end of their opening game will put a heavy psychological burden on them.
Another negative factor for the European side in our Slovakia vs Paraguay prediction comes from the location of the match. The match will be played at a higher altitude of nearly 1,500 feet above sea level where the oxygen is not as concentrated as people are used to. The Guarani are better suited for such conditions and this will give them a huge advantage.
Slovakia vs Paraguay Prediction: Given all the factors we explained in the article, it's safe to predict Paraguay to win against Slovakia, although it won't a straight forward affair for them.
Pick: Paraguay to Win @ 2,10