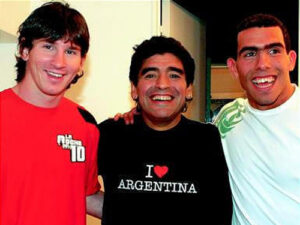 The world's biggest and most important sports even is getting closer with each day and BetOnWins brings you some of the best football predictions related to the 2010 World Cup in South Africa. Quite naturally, most of us are already wondering who is going to win it. There area lot of quality teams more than capable of claiming the trophy but at the end the winner can only be one.
When it comes to Outright World Cup 2010 Predictions, oOnce again we are talking about the Usual Suspects but we all know that there is a big surprise in every World Cup. The bookies are already offering odds for Outright Winner and if you check them at Bwin you will see that the top five favorites are Spain (4.75), Brazil (6.00), Argentina (6.50), England (7.5), Germany (11).
The question here is can Argentina conquer the World? The answer is Yes and this in fact is one of our most solid World Cup 2010 Predictions. If you look at their team sheet and the players at Don Diego's disposal you will notice a squad exploding with individual talent, especially in attack. We are talking about the World's best footballer right now – Leo Messi, combined with Carloz Tevez, Gonzalo Higuain, Kun Aguero, Diego Milito. Now that's a real Attack Force! In defense you got the rock – Walter Samuel, Gabriel Milito, Martín Demichelis, Emiliano Insúa, Gabriel Heinze. The midfield consists of  Javier Mascherano, Fernando Gago, Angel Di María, Juan Verón.
Messi is playing like Jesus right now and if Don Diego comes up with a good tactical scheme centered around the little Argentinian, then goals are guaranteed. Argentina's first WC title came in 1978 in a final against the Netherlands. This title was followed by another one 8 years later when Diego Maradona had the whole world in his feet. Now it seems that Messi is his direct heir and he is actually a better footballer and a better man that his current national coach. 34 years after their last triumph, the Argentinians look like a serious contender once again. So Argentina has the world's best player right who scored 47 goals in just 53 official matches for his club this season breaking all kinds of records. A big concern is that Messi scored just 4 in 16 qualification matches going into the World Cup. But if Maradona can get the same type of performance from him and have Messi be as effective for his country as he is for Barca, then Argentina will be unstoppable.
What makes so confident in picking Argentina as one of the prime candidates for Champions in our World Cup 2010 Predictions is that not only do they have Messi, but they also have Aguero, Tevez and Diego Milito. We are talking about the deadliest attack out of all the squads in this tournament. No one can stop these 4 players when they are having a good day.
They have the best attack in the world and a strong midfield, but perhaps their weakest link is their defense. It's still not clear who will be in goal and who will play as left and right backs. If Maradona gets his head straight and figures out a good scheme to balance for problems in defense (probably by introducing Mascherano and Cambiasso) into the lineup then Argentina have every chance of reaching the Final.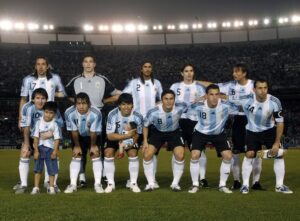 Argentina World Cup Squad: (GK) Mariano ANDUJAR, (GK) Diego POZO, (GK) Sergio ROMERO, Sergio AGUERO, Sebastian BLANCO, Mario BOLATTI, Nicolas BURDISSO, Fabricio COLOCCINI, Jesus DATOLO, Martin DEMICHELIS, Angel DI MARIA, Ariel GARCE, Jonas GUTIERREZ, Gabriel HEINZE, Gonzalo HIGUAIN, Juan INSAURRALDE, Ezequiel LAVEZZI, Javier MASCHERANO, Juan MERCIER, Lionel MESSI, Diego MILITO, Nicolas OTAMENDI, Martin PALERMO, Javier PASTORE, Clemente RODRIGUEZ, Maxi RODRIGUEZ, Walter SAMUEL, Jose SOSA, Carlos TEVEZ, Juan VERON
Argentina need a goal in the 90th minute to qualify for this World Cup in their last match against Peru as Palermo scored in the 90th minute. Checkout the highlights and Maradona's reaction at the winning goal:
One of our Arentina WC 2010 predictions is  they will meet England somewhere down the road, but what are your thoughts on Argentina's chances at this WC?

Share