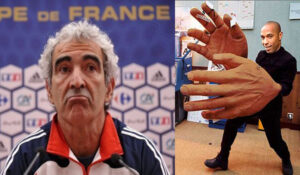 Our series of World Cup 2010 Predictions continues with a review of France and their chances in South Africa. France shouldn't have been in this World Cup in the first place, because of Henry's hand (not once but twice) in the crucial match against Ireland. But we all know who is the current President of UEFA and where he is from. So that should explain why the referees allowed what was an evident hand-balling by otherwise a legendary player.
France go into Africa as the most hated team in Europe for the way they eliminated Ireland. They don't deserve it and it's exactly why one our most accurate World Cup 2010 Predictions is they will fail to impress in the tournament. Henry's hand balling was so evident and on-purpose that it makes the whole incident even worse, particularly after such a "great" player is involved in it. He touched the ball with his hand not one but twice! The first time he stopped the ball from going out of bounds and he was impudent enough to touch it a second time in order to position it better and be able to provide the goal assist. What's even worse is that this whole thing happened in the Extra Time of the 2nd leg in a direct-elimination playoff match against a solid and extremely dedicated Irish team. The Irish are known around the world for their luck but it was certainly not the case on that day. They fought like real men for almost 2 hours just to see such an un-sporstman's gesture by such a popular player as Henry.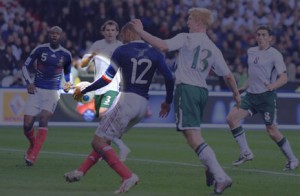 This is something that people particularly in Europe will not forget and it's one of the main reasons why France will be a complete failure at the World Cup, because what goes around comes around. The French players were starting to feel the pressure in the Extra Time and you could tell that if it went down to penalties, Ireland would have qualified, because on top of everything they have one of the best goalkeepers in the world in the likes of Shay Given.
What's was even more absurd is that Henry had the audacity to go the Irish players to calm them down after the loss. If I was in Dunne or Duff's shoes, I would have probably knocked him out with one punch. It was a shameful handball goal by none other than the captain of France who decided cheating was the way to go to South Africa. We as people, are all used to being cheated by Governments, politicians and such, but to see such a disgraceful act by an iconic footballer as Henry is really shameful and bad for football in general. It means the spirit of fair play is dead.
France qualified for the World Cup by cheating and they will pay the price. And it's not just this incident influencing our World Cup 2010 Predictions regarding France. They have a decent team particularly in the attacking department with Gourguff, Ribery, Anelka and Henry who will be coming up as a reserve by the way. But Raymond Domenech simply can't find the necessary balance in defense plus he is an absolute joke as a coach. Gallas is upset for not being named captain, Abidal is not meant to play as a central defense. There is no discipline or understanding between the players on the field.
Raymond Domenech is perhaps the most hated person in France and the people there have every reason to feel that way. Good news for them is that he is leaving after the tournament and Loran Blan is set to replace him. One of Domenech's biggest mistakes is not calling up Karim Benzema! How could he possibly not take one of the hottest young football talents in the world right now?! That's a shame and it's just another reason why France will be so poor and pathetic at the WC 2010.
Basically, the French are having a really poor national side at the moment despite there are several world class players. You can tell something is wrong with them just by watching how they play. They even lost their last WC warm-up match against China. This is by far one of the worst national sides France has ever had and you will see just why once the World Cup kicks off.
What's even worse is that Domenech decided to go completely crazy and not call up Benzema, Nasri and Gourcuff which are in fact their best players at the moment, plus they are young. On top of all that, Evra who is among the top 3 left backs in the world is warming up the benches for France instead of being a regular starter.
BetOnWins World Cup 2010 Predictions:The cheaters from France are in a difficult Group A with Uruguay, the hosts from South Africa and Mexico. Thus, it won't be a surprise to see them getting eliminated in the group stages, but even if they manage to sneak through, the Last 16 is as far as they go!
World Cup Picks:
France to get eliminated at Group Stage @ 3,25