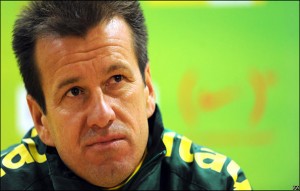 Brazil is always among the favorites at any major football tournament and they are in the same position once again going to South Africa. Football is more than sport for Brazilian people, it's a religion and over there anything but winning the World Cup is considered as a failure. It's a really heavy burden for any team to carry but their head coach Carlos Dunga has been in this situation before and he actually captained the side that won the World Cup in 1994.
An interesting statistic regarding World Cup 2010 Predictions is that Brazil have always made it to the final when the WC is played out of the European continent. They have a super squad featuring the best goalkeeper in the world Juilo Cesar, the best central defender Lucio, best right back Maicon, Daniel Alves, Robinho, Kaka, and Luis Fabiano. What's unusual about this Brazilian team in particular compared to its previous versions in the past, is that their main strength is not the midfield or attack but the defense. And it's the defense that will be key to winning. Dunga will be relying on defense that won the Champions League this year for Inter – Julio Cesar, Lucio, Maicon.
These are 3 defenders out of 5 that have played together all year long at the Treble Champions Of Europe Internazionale di Milano, so they have great sync and are almost impossible to breakthrough as even Barcelona found out. Dunga said the following to La Gazzetta dello Sport: "I will launch an assault on the World Cup using Inter's 'wall. Five months ago I had said Lucio would have been an extraordinary player there, I said he would make Inter win, and I wasn't wrong. He is a winner. We have the hunger of Lucio, the class of Julio Cesar, and the power of Maicon… It's almost impossible for teams to score against this wall of players."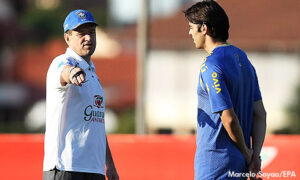 Up front with Kaka, Robino and Luis Fabiano goals are a guarantee every given game. A lot of people doubt Dunga for not calling up Adriano and Ronaldinho, or even Roberto Carlos and Ronaldo from Corinthians. But that only proves how wise Dunga is and how seriously Brazil will compete at the World Cup 2010. All these players have their better days behind them now. Neither Dinho nor Adriano or Ronaldo will ever be the same as before, we might all love them for how well they used to play like 5-6 years ago. Their peak is over and the only thing they could do is ruin the discipline inside the team. Dunga said he needs players that will run their lungs out for Brazil on the pitch, that can sacrifice themselves for the team, so the 23-men squad he selected is in deed the very best for them right now. Dunga knows what he is doing.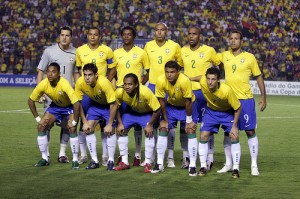 Brazil though is in Group G in the 2010 World Cup in South Africa which is quite rightfully labeled as the Group of Death as they go against Ivory Coast, Portugal and North Korea which are of course the clear outsiders here. One of either Portugal, Ivory Coast and Brazil will certainly have to go out in the group stages which will be a loss for the tournament but such are is the reality at football's biggest stage. Portugal is looking really shaky right now judging by how they qualified (through Playoffs) and their results n friendly matches prior the WC, so they will probably be the unlike ones to go out.
BetOnwins World Cup 2010 Predictions: Brazil will surely reach at least the last 4 of the tournament. They will be in the Semis, at which point a lot of factors kick in, like bookings, refereeing, luck, etc so it's too early to call right now.