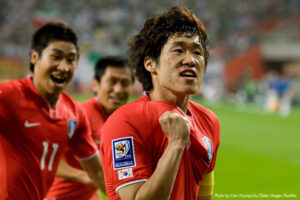 Our 2010 World Cup predictions are about to make you a lot of money this summer. The first game today, June 12th, is between South Korea and Greece. The opener in Group B sees Asian hopefuls South Korea going against one of the weakest teams in the tournament, Greece. The bookies are favoring the European side in this encounter, but according to our South Korea vs Greece Prediction, things will go exactly the other way.
The Greeks are in a World Cup for only the second time, which should explain the fact why their are yet to score a goal at the biggest stage in their entire history. Basically, their first appearance was back in 1994 in USA, where they went out right at the group stage with a -10 goal difference, conceding 10 and scoring 0 in three games. Now, in a group with Argentina, Nigeria and South Korea, it's certain they won't qualify for the next phase and they will most likely fail to get a win either. In fact, their only realistic chance of grabbing their first point at a World Cup is in this game today.
But, they are facing a dynamic and fast paced South Korean team lead by Park Ji Sung from Manchester United. All the players part of the South Korean team are able to run like crazy, pass the ball around, and create a decent number of scoring chances. South Korea has done much better than Greece at World Cups as they reached the semis back in 2002 when they were co-hosting the tournament with Japan.
Greece are nothing special. They don't have any major players competing at the biggest European clubs. Yes, they are a good team nonetheless, but nothing formidable. The Euro Championship they won in 2004 was a complete hoax and it practically means nothing. Capable of playing an organized yet totally unattractive and barely productive brand of football, we predict Greece is going to finish last in this group B.
South Korea vs Greece Prediction: Bet On South Korea to Win!