The drama in the World Cup is increasing with each day and the trend is bound to continue on December 2, 2022, as we are about to give you the most accurate and moneymaking Ghana v Uruguay prediction. This is Group H and each of the four teams in it have a real chance of qualifying, which is always great for the neutrals.
The Story Thus Far
Portugal are top of this Group with six points as they won their two games. First they defeated Ghana in a dramatic game that ended 3:2. They followed it with another win against Uruguay in a difficult and quite close game. Portugal won against Uruguay by 2:0, but that scoreline doesn't really do the game justice because the South Americans had four clear goal scoring chances in the second half and a major Bentancur miss in the first. Luiz Suarez came on as a substitute against Portugal, and he too missed an absolute shocker only a meter away from the goal line. So in this last game is where we find a huge gem for this particular Ghana v Uruguay prediction for the World Cup bet on December 2, 2022.
Uruguay With A Good Squad, But Only On Paper?
Looking at this Uruguay squad, one can easily recognize some quite popular names, such as Darwin Nunez from Liverpool, Cavani and Suarez need little introduction and are still top quality despite their slightly advanced "football age". And then you also have good midfielders playing for important clubs - Bentancur (Tottenham), Vecino (Lazio) and Frederico Valverde who has been absolutely killing it at Real Madrid this year. At the back is probably where the aging issue of this Uruguayan team is most concerning. Diego Godin is still their staring center back, and he has looked like he is over 50 for over a decade already. Yet, Godin is "just" 36, but his positioning and experience are what allows him to compensate for his lack of speed. The positive thing for Uruguay is that their other two central defenders are quite good - Jimenez from Atletico Madrid and Coates who is also another experienced defender (32) having earned his trade in Europe for nearly a decade (2015-17 Sunderland, 2017-now at Sporting Lisbon).
Of course, the correct Ghana v Uruguay prediction has to be based on the two squads and the line ups that the two coaches will go with. As I was just pointing out, Uruguay have plenty of quality players in their squad. In fact, they are pretty stacked in every position, and that's why their head coach was raving before the tournament saying that Uruguay are actually going to Qatar to win the World Cup. That does sound too large of a stretch for me, but it's always a good thing to have confidence in sports, so I understand why their coach would say something like that.
However, the Uruguayans have underperformed big time thus far, and only have a single point after two matches. It came in the goalless draw against South Korea. Now, they are at the bottom of the table, but wildly enough, a win against Ghana would see them through, unless South Korea beats Portugal, which in fact is not a bad bet. This is one of the reasons why the online bookies are tipping the Urus as the clear favorites to win this game at 1.80, but I don't think that's the best World Cup bet for today.
The Black Stars Shine In Qatar Against All Odds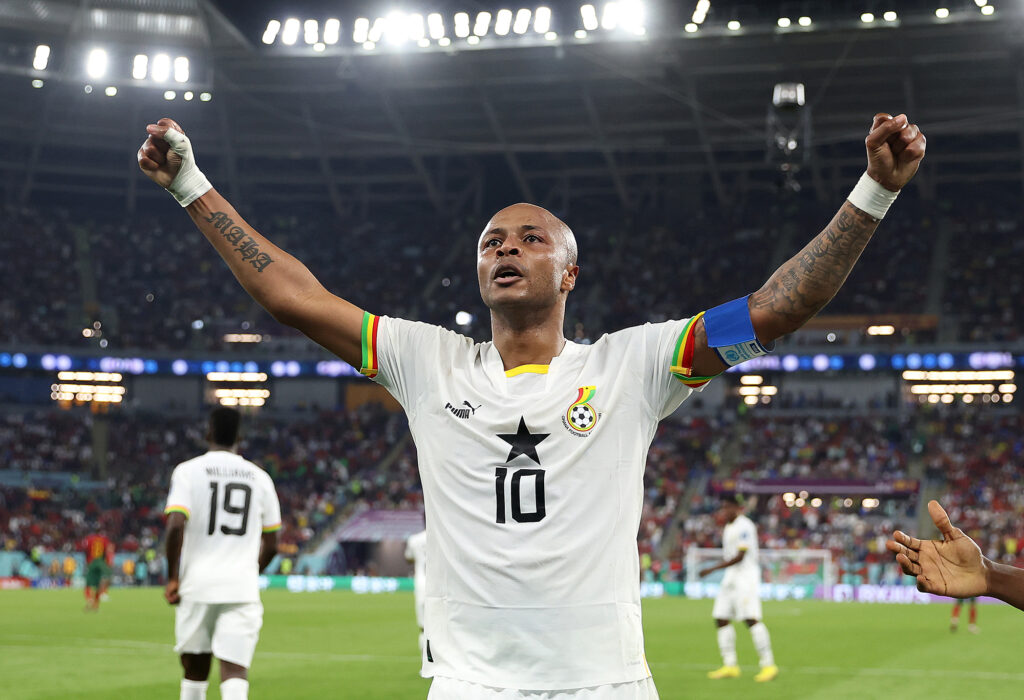 Ghana have scored five goals in their two World Cup matches thus far. They scored two against Portugal to give themselves a chance for a late comeback, and that was impressive in its own right. And then they managed to score three goals against South Korea in a dramatic 3:2 where they allowed the Asians to tie the game at 2:2 only for the Africans to show character and eventually get a third goal that was to be the winner. Ghana play with three up front - the Ayew brothers and Atheltico Bilbao's best player for years now - Inaki Williams, who unlike his own brother, decided to play for Ghana instead of Spain. Weird stuff, I know.
Ghana v Uruguay Prediction
Register to get the best Ghana v Uruguay prediction and two other top World Cup bets for today, December 2, 2022. A quick FYI, we won on our previous bet on Japan v Spain Over 2.5 goals.
Please register to view our paid betting picks.