We've entered the decisive part of the World Cup as the final games in the group stage are being played, so we are bringing the most accurate Poland v Argentina preview and prediction. Once again, we won on our previous World Cup bet as we accurately predicted Both Teams to Score in the Croatia v Canada match. We are looking to produce another winner for our subscribers tonight.
The Story Thus Far
Both sides won their previous matches in this Group C with identical 2:0 scoreline. Messi broke the deadlock against the Mexico with a nice shot from outside the box, and Lewandowski got his first World Cup goal as Poland edged Saudi Arabia. Now, Poland are top of the group with 4 points, but despite of that, they could still be eliminated if they lose to Argentina and Saudi Arabia beats Mexico. So there is everything to play for and nothing is certain in this final round in what turned out to be a highly intriguing Group C.
Lewa vs Leo – Who's Going Home Early?
Chances are quite high that a major star is about to exit the World Cup tonight as Lewandowski goes head-to-head against Leo Messi. Who would it be? Get the answer in our Poland v Argentina prediction. A draw in this game would be enough for Poland to go through, and both teams will in fact go through if the two games in this group end in draws. This, however, is quite unlikely. Argentina need a win to guarantee themselves progression into the next phase. In fact, a win for the South American Champions will ensure they finish on top of this group, despite their shocking opening round defeat to Saudi Arabia. Yet, if they fail to win this game and split the points with Poland, Saudi Arabia only need to win their game against a disappointing Mexico side to pull off one of the biggest shocks in the World Cup by eliminating Messi and Co in the group stages.
Huge Pressure On Argentina
Before the tournament started, Argentina were tipped by bookmakers as the odd-on favorites to win the World Cup. The odds on them to win it all were just 3.50. Now, they are much higher at 12.00. It will be a massive shock if Argentina fail to make it out of the groups tonight. In what's about to be Messi's last World Cup, an exit as early as in the Group stages would be considered a huge failure and the team will not be well received in Argentina. The amount of criticism that would be heaped upon the Argentines would be immense. Having said all that, the South Americans will carry a heavy, heavy burden into this game, knowing how crucial this game is for them.
In the first two games thus far, Argentina have played with a lot of pressure that has been weighing heavily on them. That's the pressure of all these huge expectations, and that usually comes with having Messi in your team. And if you look closely at the players around him, you would see that Argentina are not actually that good, at least not good enough (in my opinion) to win this World Cup. They've always been shaky at the back, but their midfield is particularly flat this time. I don't thing that you can go all the way without having a world class talent in your midfield. I'm talking about a player like Modric, Kante, or Casemiro. There is just not that type of player in the Gauchos. Rodrigo de Paul has been underperforming in an Atletico Madrid side that has been seriously disappointing this year. Mac Allister, with all due respect, is playing for a mid-level team in England. And I don't even know the third guy that's expected to start for Argentina tonight – Enzo Jeremias Fernandez (#13), although he introduced himself quite nicely scoring a stunner against Mexico, but it might be too early to throw him in the fire just yet. We shall see. In attack, you have Messi and Angel di Maria, how are both past their prime, and a Lautaro Martinez who is not even the top scorer for his club Inter – a 36-year-old Dzeko has more goals than him. All in all, I'm not impressed by this Argentine squad.
Poland In Pole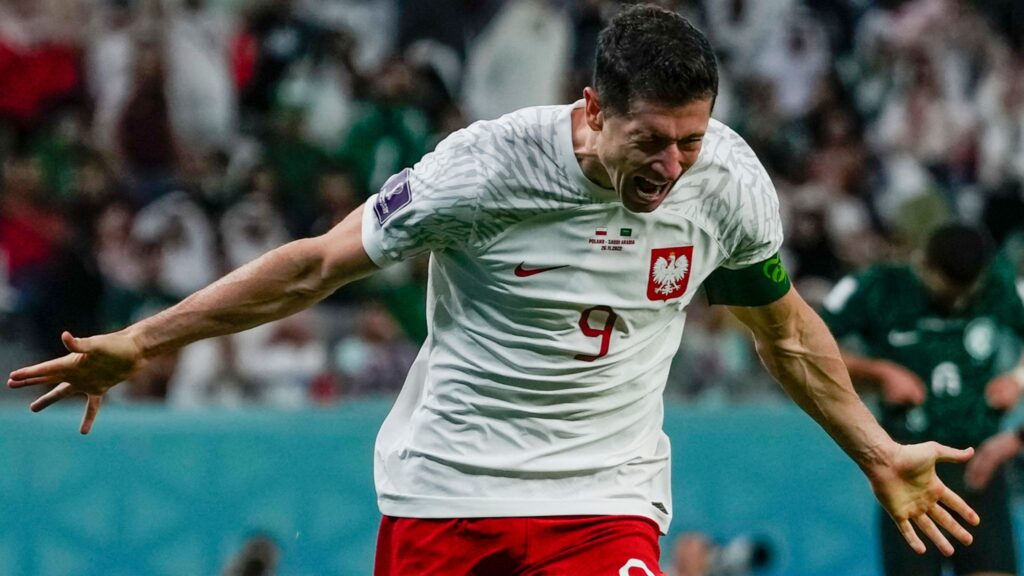 Lewandowski got his first World Cup goal in the previous game against Saudi Arabia, and you could tell just how much it meant for him.
Poland is in pole position heading into this decisive game against Argentina. The Polish players know that even if they fail to go though, this would not be taken as such a disaster at home, particularly in comparison to what Messi and his teammates can expect if they return home so early. Nevertheless, Poland are currently on top of the group and have the cushion of knowing that even a draw would be enough for them to go through. This will allow them to play it somewhat safe. It's the perfect setup for the European team knowing that they can let the Argentines dominate the ball and hurt them on the counter-attack with Lewandowski needing few chances to get a goal.
When looking for the top World Cup bet and prediction for tonight, one must also factor in the quality that Poland have in their lineup. You are talking about really experienced players and most of them play in the best leagues in Europe. This team is not just Lewandowski. They have a host of other top class players, like Milik, Piatek, Zielinski, Frankowski, Krychowiak, Matty Cash, Szczesny (in goal), Berezynski. So we are talking about a quality team that has been playing together for over four years now.
Poland v Argentina Prediction
Register and become an official BetOnWins member to get our top betting pick for this game as well as for the next games in this amazing World Cup. We have some really good winners line up, and let's not forget we are quite good in the NBA and that's every day!
Both Teams To Score @ 2.50 ❌