Our NBA Bet of the day comes with the most accurate Warriors at Pacers prediction for December 14, 2022. We had a winner last night with our NBA pick on the Jazz to beat the Pelicans. This would be the second game of a back-to-back for the Warriors as they were blown last night by the Bucks 111-128. Meanwhile, the Pacers had a day off and their last game was a home loss against the Heat in a game where they could have won if it wasn't for Jimmy Buttler's late game heroics.
Familiar Foes Meet Again
An interesting moment about this particular Warriors at Pacers prediction is that the two teams played last week and Indiana handed the Dubs a shock home loss and ended their home winning streak at 10. That game 112-104 in favor of the Pacers and there was one player in particular that grabbed all the headlines. You would think it was Steph Curry, but it was actually the rookie Andrew Nembhard who put a Curry-esque performance with 31 points and 13 assists! Nembhard was actually a second round pick in this draft, so to see him play such great basketball so early on means the Pacers management made an absolute steal by selecting him, so hats off to them for this great job. The guy is definitely no fluke, and we expect him to get even better.
Indiana Pacers Are Young And Dangerous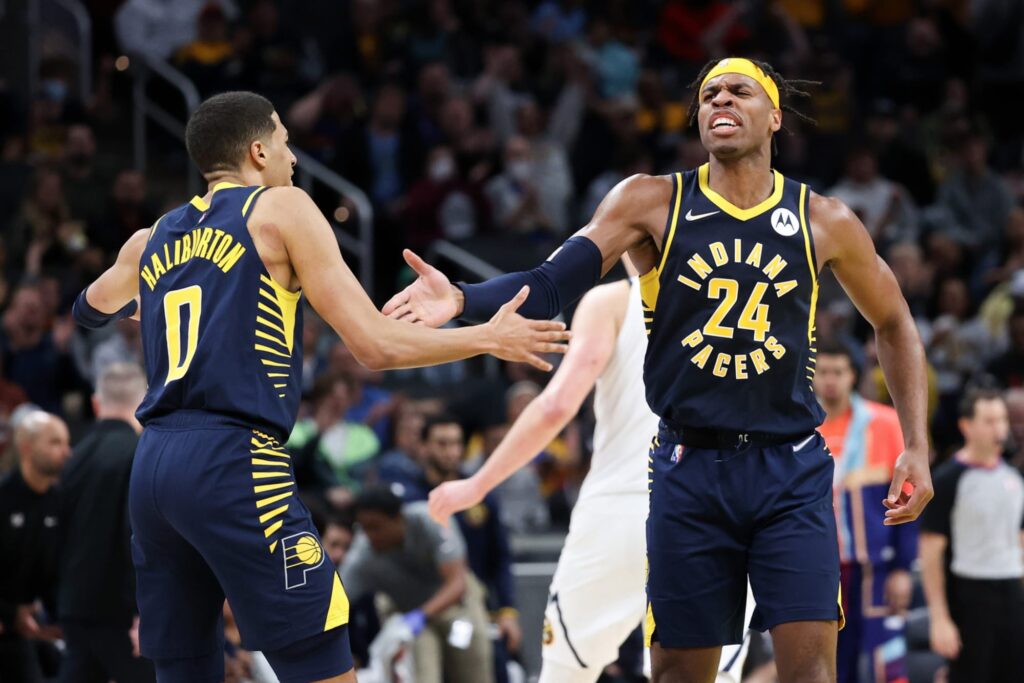 The Pacers have been one of the positive surprises in the NBA this year. They are currently eight in the Eastern Conference with a record of 14 wins and 14 losses, which is pretty decent given that it's a new team full of young players. The Pacers management did a good job by getting Rick Carlisle as the head coach. He has won the title both as a player back in the 80s with the Celtics and also as a coach at Dallas Mavericks, so he is a proven winner that knows a great deal about basketball.
But it's not just their head coach. The Pacers have a really good squad too. If you look at their line up in their last game (the home loss against the Heat, 82-87), they got Buddy Hield, who is one of the best shooters in the game and can easily get you 20+ points a night. Myles Turner is also a very good young player, a center that can shoot the three, defent the paint, block shots, has a nice touch around the basket, and averages around 17.5 points per game.
We talked about Nembhard and how good this young man already is. Tyrese Haliburton is now back after the injury he sustained recently, and is also one of best true point guards we have in the game today. I say "true point guard" because he is a pass-first guy always looking to make the right play and find the open man, but he can also shoot the three. And then you add in their top rookie Bennedict Mathurin, who is in the conversation for Rookie of the Year, really solid player, multidimensional, well-built, can score, defend, he can do it all on the floor. Jalen Smith is the backup big man in his second year averaging 10.5 PPG and 6.6 Rebounds.
The Warriors Are Sliding In The Wrong Direction
As always when posting our top NBA betting picks daily, we are looking to cover both teams, so let's examine the visitors in this Warriors at Pacers prediction. Golden State lost last night to the Bucks and head coach Steve Kerr surprisingly blamed it on the officials and the huge Free Throw discrepancy.
"The free throws are a killer. I say it all the time: It's not just two points for the other team, but then we have to go against a set defense. It's been an issue all season."

Steve Kerr after last night's defeat against the Bucks
The Warriors had a total of five Technical Fouls (against them), so those are five free throws for the Bucks, and in total Milwaukee shot 32 FTs compared to 19 for the Warriors. When you take away those five techs, it's 27 FTs compared to 19, which is not that big of a difference. I certainly would not blame a nearly 20 point loss to six free throws. Steve Kerr should elsewhere for his team's problems.
Fact of the matter is that the Warriors have not performed as well as everyone thought they would. They are still going through a bit of a championship hangover. You look at their lineup, and the quality is still there. Obviously, Klay is not the same player as he was three years ago before the two major injuries, but they still won the championship last year only after he got back. They paid Jordan Poole major money this offseason, he is now in the starting lineup, and yet he hasn't made progress this year averaging around 18 PPG, which is on par with Klay Thompson.
Warriors at Pacers Prediction
Register to get our top betting pick for this game, and the days ahead in the NBA and the FIFA World Cup.
Pacers to Win @ 1.90 on Money Line ✅