We bring you our series of top NBA Finals betting picks with this Heat at Nuggets Game 2 prediction. The 2023 NBA Finals started with a Game 1 win for the Denver Nuggets in a low scoring 104:93 opening contest at the Mile High City. It was their first ever NBA Finals game since the ABA and NBA merger and the Nuggs were keen on making a good impression. Plus, Mike Malone had warned his players of the danger posed by the Heat when playing on the road as Miami were able to take the opening game at each of their three rounds (at Bucks, Knicks, and Celtics) on their quest to the Finals. The extra 10-day rest that Denver had also gave them an advantage against a weary Heat team that had to grind hard in a 7-game series against Boston.
What Happened in Game 1?
Obviously, in order to give you the most accurate NBA Finals betting picks and the best Heat at Nuggets Game 2 prediction, we have to analyze what happened in the opener. Well, the Nuggets put in a masterful performance led by the most unselfish superstar Nikola Jokic, who made history once again by dishing out 14 assists to his teammates, which is the most ever in an NBA Finals debut. Despite having taken just 5 shots in the first three quarters, the Joker still managed to end the game with 28 points! He had yet another Playoff trippe-double as those 28 points and 14 assists went along with 10 rebounds!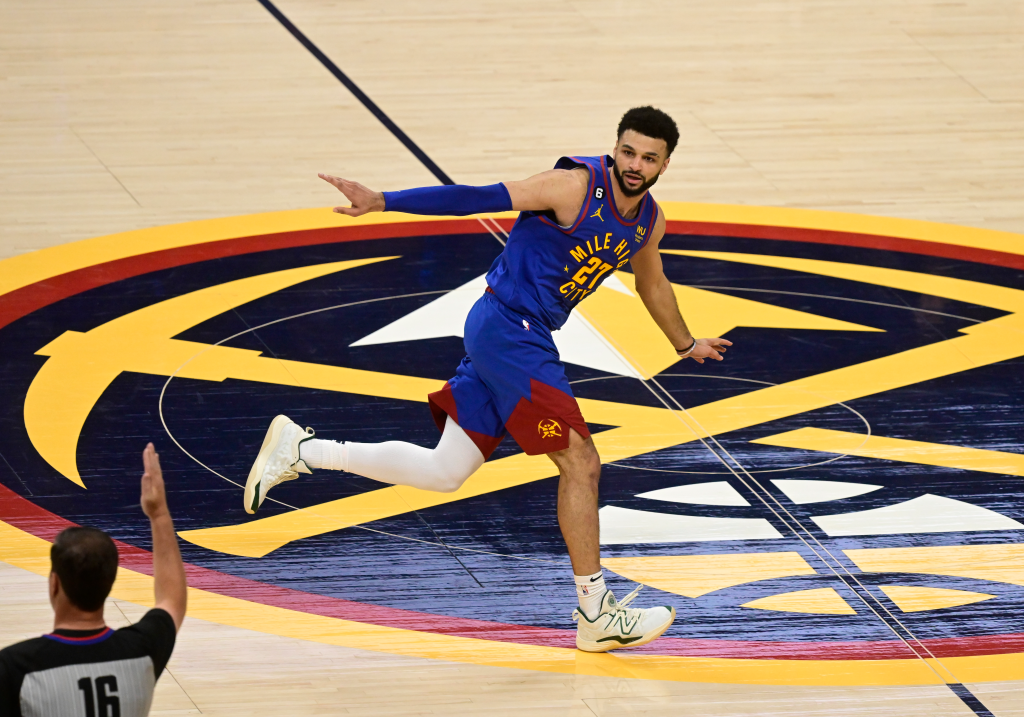 Jamal Murray joined the party and logged in 26 points and 10 assists in 44 minutes of action. Aaron Gordon established a solid presence down low early on and was making the most out of his size advantage over Mas Strus. He was bulldozing his way to the basket and got 7 buckets in the paint especially early on, which really helped Denver take control of the game. Gordon's contribution on offense was a big factor in this game.
One of our free NBA betting picks for this game is that it will go Over the line of Total points, which is currently set at 215.0. We expect Miami to improve in this game and score more than the 94 points they had in Game 1, which should help the game cover the Total Points line.
The Heat Have To Make Adjustments
The Miami Heat have to make adjustments going into Game 2 if they don't want to put themselves in a 2-0 hole going back home. Good news for them is that they have one of the best coaches in the NBA in Eric Spoelstra, so he would know what to do. Spo's been there, done that. We already saw in the course of these Playoffs that the Heat are a resilient bunch that does not give up. They won't be feeling too down after losing the opener.
Miami have to play with more force and assert themselves early on. I think they know that, and are well capable of it.
All their role players, the so called "undrafted guys" probably felt the pressure of going to the Finals. The Finals are definitely a different beast and it seems they felt it. The Heat had just 2 Free Throws the entire game, and that's All Time low in the history of the Finals. Plus, Strus and Caleb Martin went 1-17 from the 3-pt line, so they can't be any worse than that. Having said all of that, one of the top NBA betting picks for these Finals is that the Heat should improve, and it's a good idea to lay on the spread for them.
Heat at Nuggets Game 2 Prediction
Register to get our top NBA betting pick for this game and also our top soccer betting picks for today.
Heat To Win @ 4.25 on Money Line ✅